The Secretary
Renee Knight
Book Review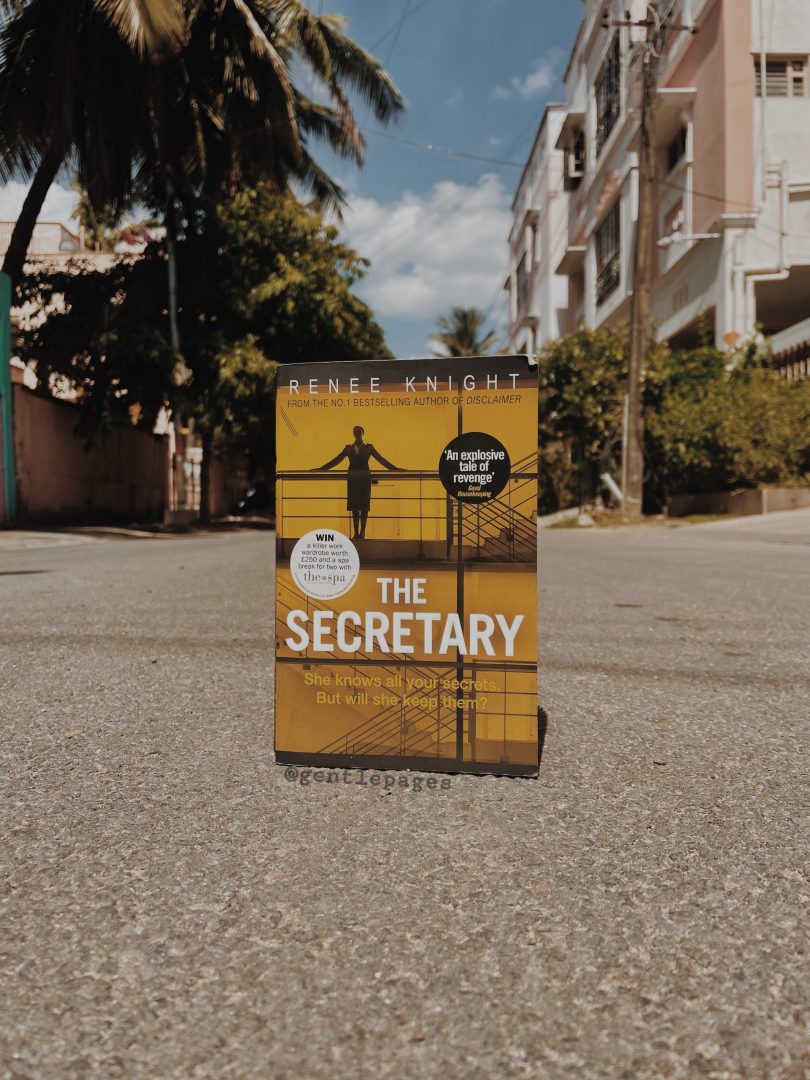 "The secretary" is a contemporary thriller written by Renee Knight. Christine works as an assistant to Mina Appleton of the famous Appleton Supermarket chain. Christine is a loyal and a hard working assistant whose presence is often over-looked in a room where sensitive information and secrets are shared. An assistant can therefore be said to be the most dangerous person in the room.
How did a perfect assistant like Christine get tangled in a mess and how far would Christine's loyalty towards her employer go, before she re-evaluates her loyalty? After all, Christine knows secrets about Mina that the world is unaware of.
---
"Being a secretary back then was, it seems, not so different to now. That ability to make oneself invisible. It is astounding the number of conversations carried on in front of us, as if we don't exist. The silent witness is a role I'm quite used to. Watching, listening – as quiet as a mouse, at the heart of events – my loyalty and discretion never in question. And yet, loyalty and direction are qualities for which I have paid a heavy price."
– Renee Knight, The Secretary
---
I don't know how I feel about this book. The ending was something that I definitely did not see it coming or what I expected, but it does not mean that the book is not worth a one-time read.
The timeline switch-up between the present and the past takes a while to get used to. Christine's character at the beginning showed her to be the most loyal and hard working assistant and it made me ponder how things went so south making her a cold person in the present.
The story is mostly narrative rather than keeping it conversational between the characters. It is very clear that at first Christine just wanted to be perfect at her job but very slowly she loved the way she was needed by Mina for help and assistance. She began to prioritize Mina over her own family and needs. She had developed some kind of need for being needed by her and that is why even when she was betrayed, she still had some kind of warmth towards Mina in the last chapter.
You can also read the review of The family Upstairs – The Family Upstairs by Lisa Jewell – A Gripping Novel
Christine is not the perfect human being. Of course, she makes mistakes too along the way, but it is when she starts to lie and hide things from Mina to make herself look good – that's when I had problems with Christine's ideology.
---
"There was in fact a body in that trial, but the jury stepped over it – barely noticing it lying there,, buried as it was, so expertly by the defence, under a labyrinthine paper trial"
– Renee Knight, The Secretary
---
Mina is a woman who wants power and she would do anything to get it. The dynamic between Mina and Christine is really complex but interesting to analyse and dissect. While it may seem that Mina always needs Christine for help and assistance, it is actually Christine who always needs Mina to be needed. Mina is a subtle manipulator and gets what she wants by guilt tripping Christine.
I was a bit disappointed in Christine during the trial scene would be an understatement. I felt that was the final straw where I just stopped rooting for Christine. She had one last chance to redeem herself and prioritize her own self but she looked the other way again, which again made me question her morale. It was no longer a question of loyalty but a question of fairness.
What made me baffled was how Christine's many days of planning to avenge herself and clear her name only lead to that last chapter of the book. It did not make sense to me. I was hoping to see Mina fall from her throne in front of all the press and the public but I felt she got it way too easy. It wasn't fair to Christine or to the readers. Christine too, deserved better and I was not happy with her ending.
Christine had the power to destroy Mina but with that ending, I would say she only punched Mina in the face.
In short I could say, this is not one of the best books to read but it is worth a one-time read. I would rate this book a 3 on 5.
You can get your copy of the book here: https://www.amazon.in/Secretary-Ren%C3%A9e-Knight/dp/085752285X/ref=tmm_pap_swatch_0?_encoding=UTF8&qid=&sr=