THE SILENT PATIENT BY ALEX MICHAELIDES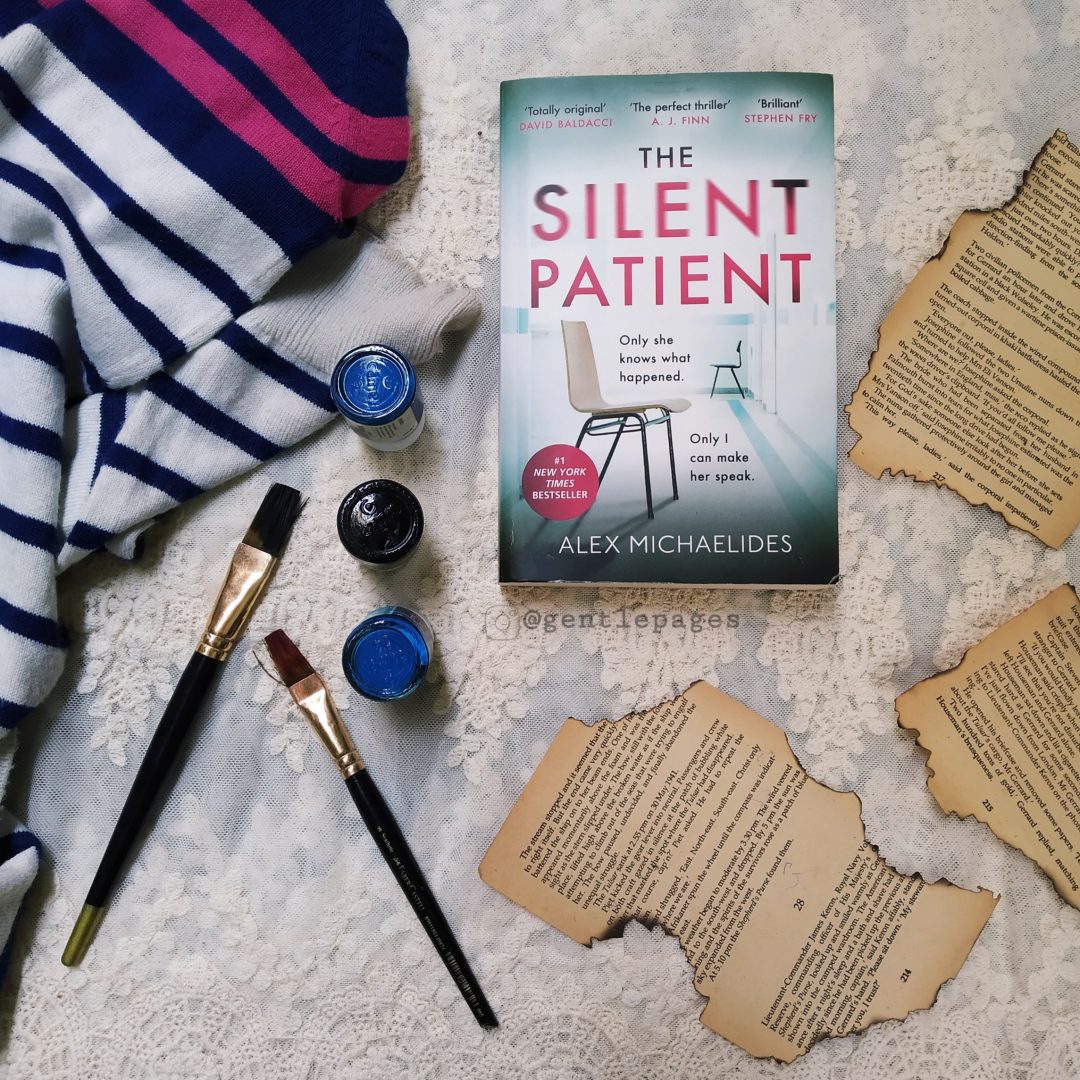 Alicia Berenson had been married for seven years, and she loved her husband very much. Alicia was a notable painter and her husband, Gabriel, was a renowned fashion photographer. She had a beautiful home in an affluent neighbourhood.
Alicia seemed to be living the perfect life, until one night. Alicia Berenson shoots her husband five times in the face and remains silent ever since. Gabriel was murdered six years ago, but Alicia still refuses to speak.  
 
"Her enduring silence turned this story from a commonplace domestic tragedy into something far grander: a mystery, an enigma that gripped the headlines and captured the public imagination for months to come."  
 
Theo Faber is a forensic psychotherapist, and he believes that he can make Alicia speak again. Despite hearing stories of many failed attempts of others, Theo is determined to make her speak again. He discovers new secrets after six years.  
 
 
What instigated Alicia to kill her beloved husband?
Why is Theo Faber obsessed with Alicia Berenson's murder? 
To know that, read The Silent Patient by Alex Michaelides.
---
Best Buy – https://www.amazon.in/Silent-Patient-Alex-Michaelides/dp/1409181634/ref=tmm_pap_swatch_0?_encoding=UTF8&qid=&sr=
My thoughts about the silent patient – 
This was the best psychological thriller I have ever come across. The silent patient is a cleverly crafted thriller novel. The crime, plot, writing style and character development is on point. The Silent Patient is a compelling page-turner. The silent patient put me in a book hangover, and it took a long time for me to come out of Alicia's world.  
Making Alicia talk alone was not the only storyline but also piling a few other problems over Theo made the novel even more intriguing.  
The character development is brilliant. Both Theo and Alicia have undergone therapy to deal with their mental illnesses and, to learn the story from their perspective was amazing. The psychological aspects were emphasised well.   
The Silent Patient addresses the importance of mental health in our society. Theo shares his experience of working with a few patients at the psychiatric unit. Our childhood experiences influence our behaviour and personality into adulthood, even if we were not aware of the existence of this connection.  
There is a switch of two different narrations – Theo and excerpts of Alicia's diary. Two different storylines meet at one point, and that is where the story completely makes sense and astonishes the readers. Alicia's love for painting plays a vital role in this story.  I enjoyed the connection with Greek mythology. 
There is more than just crime-solving in this novel. There are themes like love, betrayal, rivalry and death. At times, I did not like Theo's personality but who is not flawed? 
"…we often mistake love for fireworks – for drama and dysfunction. But real love is very quiet, very still. It's boring if seen from the perspective of high drama. Love is deep and calm – and constant."  – Alex Michaelides, The Silent Patient
I cannot believe The Silent Patient is Alex Michaelides's debut novel. I am looking forward to reading more of his works. Reviewing this took a long time, as I tried my level best not to give too much away. 
I was speechless after reading the book. The Silent Patient is sure to take the readers on a roller coaster ride that will leave them on the edge of their seats. 
"We are made up of different parts, some good, some bad, and a healthy mind can tolerate this ambivalence and juggle both good and bad at the same time. Mental illness is precisely about a lack of this kind of integration – we end up losing contact with the unacceptable parts of ourselves." – Alex Michaelides, The Silent Patient

Truly, one of the best books I've read this year! Recommended from my side.
You might also like, https://gentlepages.com/stalker-by-lars-kepler-book-review/
About the author  –
Alex Michaelides was born and raised in Cyprus. He has an M.A. in English literature from Trinity College, Cambridge University, and an M.A. in screenwriting from the American Film Institute in Los Angeles. The Silent Patient was his first novel and was the biggest-selling debut in the world in 2019. It spent more than a year on the New York Times bestseller list and sold in a record-breaking forty-nine countries. Alex lives in London.