Been Here All Along
Sandy Hall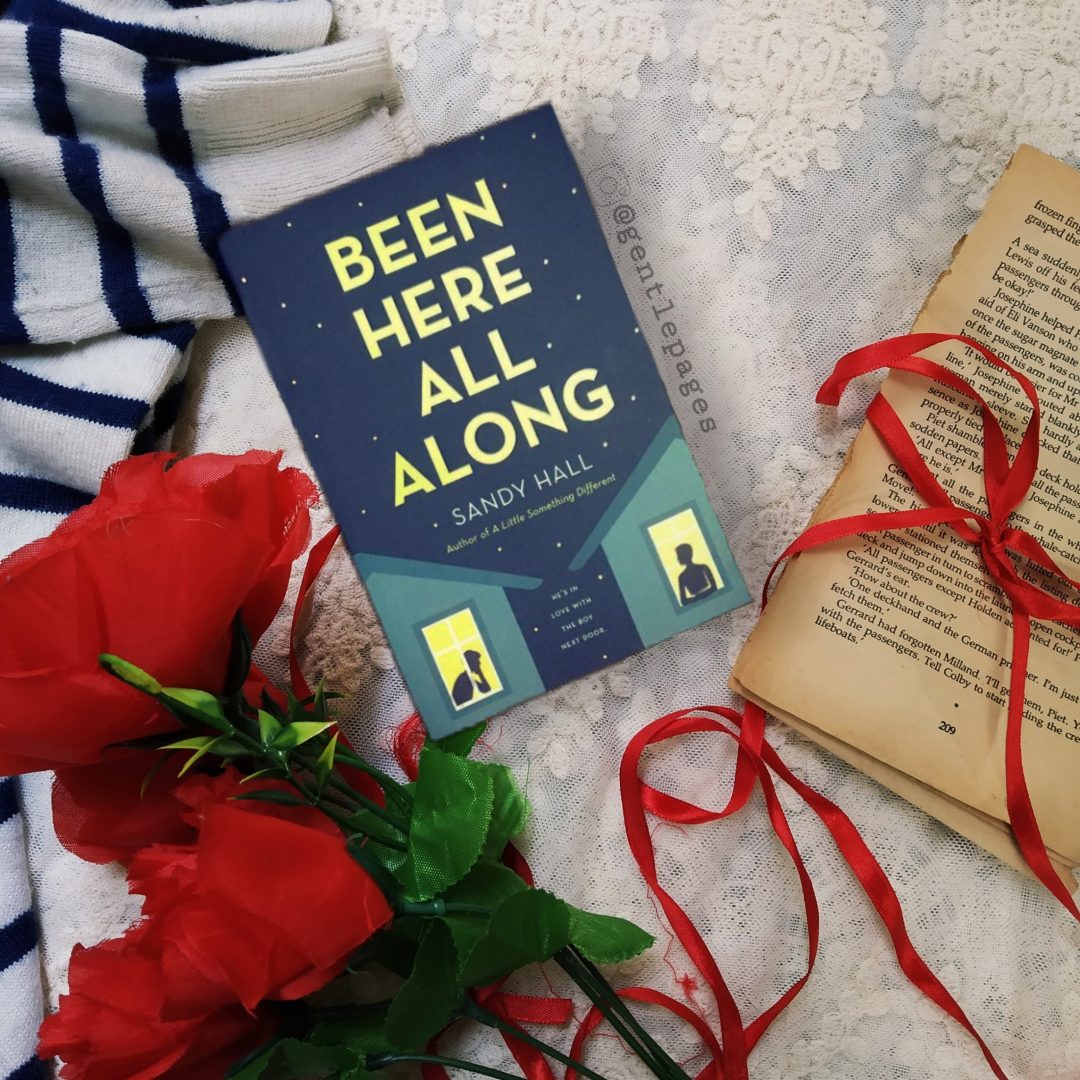 Gideon is smart, over-organized, always planning ahead for his future. Kyle is quite the opposite – the star basketball player of their school, not at all organized, never really thinks or plans for his future.
These two have been best friends almost their entire life. Gideon realizes his crush on Kyle and now everything seems to be out of his control. He is now trying to understand this new-found emotion. The problem now is Kyle is already dating the popular and gorgeous cheerleader, Ruby.
Kyle feels Gideon is being different all of a sudden and things start to take a turn in their friendship.
How will Gideon figure out his emotions? Will he let Kyle know how he feels? How will Kyle react?
"Friendship is kind of a stupid, arbitrary thing when you think about it. You should be able to hold your friend's hand whenever you want. How is holding hands more intimate than giving a hug? Who makes those decisions?"
I read this book in a single sitting. It is a basic American teen story – like we all know how it will end but we still read it because it is so CUTE! It is like a typical teen Netflix movie plus the gay character.
This book got me out of my reading slump.
I am still new to reading LGBTQ genre-based books and I loved this one!
You can also read this review: The Seven Husbands of Evelyn Hugo – an exceptional read!
There is a switch-up in the point of view between Gideon, Kyle, Ruby, and Ezra (Gideon's elder brother).
Out of the four point-of-view, I felt Gideon's was the most interesting and funny.
I loved how Ezra looked after his baby brother Gideon all the time.
My favorite of the two main leads is Gideon. He is such a drama queen in his head and honestly, we are like that sometimes. We all are a bit overdramatic in our heads.
Gideon is also sassy and a true gen z like a person. I felt he was so relatable with the way he has a mental debate with himself or when he thinks of an apocalypse at school.
"I have completely lost control over my life. The only thing I can control anymore is the low flame on my Bunsen burner."
He made me laugh out loud so many times. He is that guy we all would love to have as a best friend.
Kyle has a weird sense of humor and he made me laugh sometimes as well, especially when he pretends to be a tree in order to not speak.
"Even if five-seven going on five-eight isn't really that short, some of the gorillas at this school seem to think it is."
I was feeling all mushy and warm inside when Gideon was feeling helpless in front of his crush!
Ruby is a character I absolutely hated at the beginning but there was good character development and it made the book a bit more wholesome.
The two boys are adorable in their own way. There is this slow romance brewing in-between the two and it felt like the story was taking its time to unfold.
In the four narration switch-ups, we come to find that each character out of the four, has been hiding a secret of their own. This narration switch-up shows that everyone has their own issues and it is not always beds of roses.
"I'm so happy it makes me want to hide because I don't know what to do with it all. I want to store it up and save it for winter."
This is my first time reading Sandy Hall's work and I liked it. It was a cliché plot line but it was wholesome because of the writing style. It was funny and light-hearted. This book left me feeling good.
I would rate this book a 3 out of 5.
Get your copy here: https://www.amazon.in/Been-Here-All-Along-Love/dp/1250100658/ref=sr_1_1?crid=3OW3OCSHPURQG&dchild=1&keywords=been+here+all+along&qid=1615053307&sprefix=been+here+a%2Caps%2C291&sr=8-1