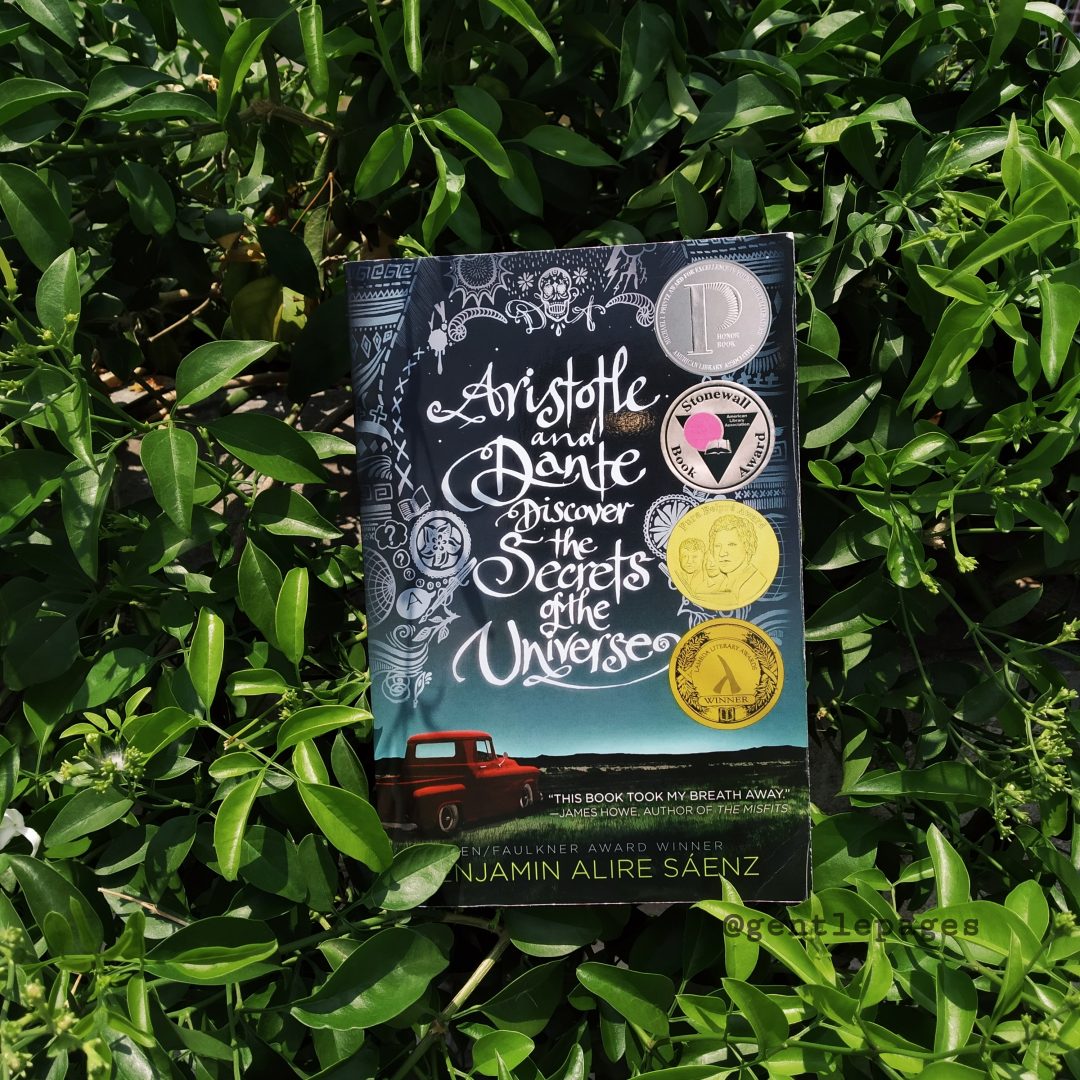 Aristotle and Dante discover the secrets of the universe by Benjamin Alire Saenz is a beautiful story of Aristotle Mendoza's attempt at figuring out his true self and the mysteries of life. This is a coming-of-age story of two Mexican American teenagers and, is set in the late 1980s. The story is narrated from Aristotle's perspective.
---
Aristotle Mendoza
Aristotle is a fifteen-year-old who is constantly fighting an internal battle. He struggles to make friends, and he does not know to swim. Ari feels the life he is living is someone else's idea. He is unsure about what he truly wants. 
Ari's bond with his mother is beautiful. His equation with his father is not so great. Ari's dad had returned from the war and is suffering from post-traumatic stress disorder ever since. Ari's brother is in the prison, and no one in his family ever speaks about him. Ari longs to know about his brother. Ari and his sisters have a huge age gap in between so they do not find anything in common. Ari is not very good with words and bottles up all his emotions and thoughts.
Dante Quintana
Dante is optimistic, expressive and confident. He has loving parents and is crazy about them. Dante knows to swim. He is unashamed of who he is, and I loved that about him. Dante has the warmest heart, and he is too pure for the world. 
Aristotle and Dante
Aristotle meets Dante Quintana at the local pool for the first time. Dante offers to teach him to swim. Ari and Dante are poles apart and have very contrasting characters. Ari and Dante become best friends. Their unlikely friendship develops into something beautiful. Together they discover the beautiful truths about life and who they are.
"I bet you could sometimes find all the mysteries of the universe in someone's hand."

– Benjamin Alire Saenz, Aristotle and Dante discover the secrets of the universe
---
I enjoyed Aristotle and Dante discover the secrets of the universe so much. The author has adopted a lyrical writing style. Some lines broke my heart and made me wonder how words can be so powerful. The writing is effortlessly poetic and moving. This is a character-driven book rather than a plot-driven story. The plot is, of course, quite predictable. The character development is on point. Ari and Dante were meant to be together.
"I got to thinking that poems were like people. Some people you got right off the bat. Some people you just didn't get–and never would get." 

– Benjamin Alire Saenz, Aristotle and Dante discover the secrets of the universe
The author has written from a first-person perspective. So, we follow the life of Ari from fifteen to seventeen years. His stubbornness and quest to find answers for the simplest things made his character so real and raw. At times, Ari got on my nerves. I found Ari a bit grumpy and, he was ignorant about his true feelings for his best friend. Yet, I have sympathised with his character. Although Ari's father was not very vocal, he tried to build his bond with his son. He tried and, that matters.
Dante is the sweetest character in this book. He is unapologetically himself and I loved that. His bond with his father was so loving. He loved his parents so much. Sam Quintana is hands down the best book father ever. Ari and Dante's bond is the best. They had nothing in common, but they just clicked. Although they come across a lot of rough patches, Ari and Dante were inseparable. 
This book wasn't only about Ari and Dante. Their families were equally involved, and the care they showed towards the boys was so emotional and touching. The author did a great job while writing about bullying, Homophobic violence and the struggles of dual ethnic identities. 
"Another secret of the universe: Sometimes pain was like a storm that came out of nowhere. The clearest summer could end in a downpour. Could end in lightning and thunder."

– Benjamin Alire Saenz, Aristotle and Dante discover the secrets of the universe
The chapters are short and quick. You can read this book in a few sittings. The story is slow-paced but very engaging. The key takeaway is beautiful. The writing was more like conversation and it requires no effort to read this gem of a book. I am so glad I chose to read this book. This book made me feel so many things at once. I think ill never be able to do justice in reviewing this book. Do pick this book up.
The sequel of Aristotle and Dante discover the secrets of the universe is all set to publish in October, this year. The sequel is titled 'Aristotle and Dante dive into the waters of the world'.
I am so freaking excited! I need to read the next one so bad.
---
Get your copy – https://www.amazon.in/Aristotle-Dante-Discover-Secrets-Universe/dp/1442408936
You might also like – https://gentlepages.com/been-here-all-along-sandy-hall/
---
About the author –
Benjamin Alire Sáenz is an author of poetry and prose for adults and teens. He is the winner of the PEN/Faulkner Award and the American Book Award for his books for adults. Aristotle and Dante Discover the Secrets of the Universe was a Printz Honor Book, the Stonewall Award winner, the Pura Belpre Award winner, the Lambda Literary Award winner, and a finalist for the Amelia Elizabeth Walden Award.
His first novel for teens, Sammy and Juliana in Hollywood, was an ALA Top Ten Book for Young Adults and a finalist for the Los Angeles Times Book Prize. His second book for teens, He Forgot to Say Goodbye, won the Tomás Rivera Mexican American Children's Book Award, the Southwest Book Award, and was named a New York Public Library Book for the Teen Age. He teaches creative writing at the University of Texas, El Paso.