Good Girl, Bad Blood
Holly Jackson
Book Review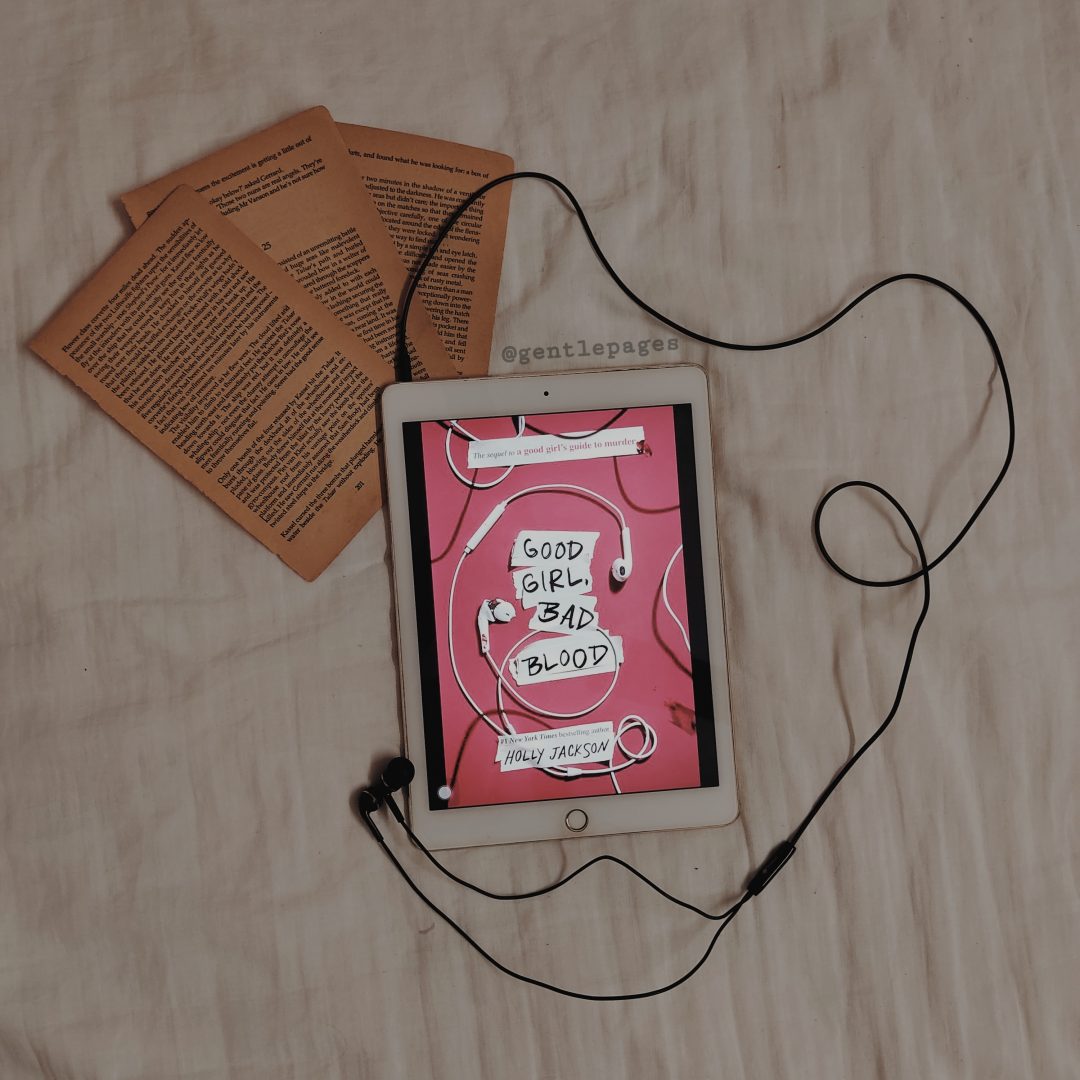 Good Girl, Bad Blood is the sequel to "A good girl's guide to murder". At the end of the first book we see Elliot Ward being found guilty of murdering Sal Singh and Max Hastings waiting for his trial regarding the rape charges.
In the second book everything seems to be normal and calm until Jamie Reynolds, brother of Pip's friend Connor Reynolds goes missing. He was last seen on the night of Sal Singh's Memorial. Jamie Reynolds was not doing well in his life. He was struggling to stay at one job, living with his parents and this led to many arguments between him and his dad frequently. Jamie also had a history of running away for a day or two and then returning back when things have cooled down in the house.
So when Jamie goes missing on Friday night and hasn't returned the next day, Jamie's mom and his brother get frantic and worried. Jamie's dad on the other hand seemed to be thinking this was another one of his usual run away sagas.
Jamie's mom decides to call Pip for help and to look into this missing case when the police refused to help. Pip had promised to herself that she would never do this again, not after what happened last time.
But something in his mum's desperate tone made her agree to it and she starts looking into the case. Even after the first time, she realizes she doesn't know her little town all that well. It is full of secrets and lies.
What happened to Jamie and will Pip find him? Will this time be different than the first time around?
---
"I think we all get to decide what good and bad and right and wrong mean to us, not what we're told to accept."
– Holly Jackson, Good Girl, Bad Blood
---
I liked this one. This book is a decent thriller. I thought after the first book, the story would get darker but this wasn't the case. I enjoyed reading this book as there were a few surprises here and there which is mandatory for a thriller.
You can also check out the review of the first part of the series: A Good Girl's Guide to Murder – A Good Thriller for Young Adults
This book can be read in a single sitting. Let us take a quick look at the characters.
Pip:
Our main character has definitely grown on me in this book. She has become more bold and confident and she finally comes to terms with herself about her personality and who she is as a person.
Ravi:
This guy is a heartthrob and I was just left with wanting more every time he appeared in the chapter. I hope there is more of Ravi in the third book of this series.
Cara and Connor:
Cara is slowly finding normalcy in her life after her dad was sent to prison and honestly I loved how she was willing to help Pip in this case as a mature and a healed person. Connor looked like a lost puppy to me. I could honestly relate to him and his emotions throughout the book. He was sometimes annoying but he was trying his best to help find his brother.
Lauren and Ant:
Now I could go on and on about how much I hated these two characters in this book. They were in their own little world where there was nothing out of place. I just felt like they were bad friends and they failed to sympathize or even be polite about this entire situation. I just wish Pip would have put them in their place.
---
"What do you do when the things that are supposed to protect you, fail you like that"
– Holly Jackson, Good Girl, Bad Blood.
---
Overall thoughts:
At first I was a bit annoyed when Pip had to play detective again just because the police weren't doing their job. How convenient. But the story pulled me in within a few chapters and it kept me hooked.
With this kind of plot, it is easy to derail from the central storyline. But the author did not feed into unnecessary romance. Towards the final few chapters, it was getting a bit obvious as to what was going on but the author has done a good job with the entire playout of events.
Since I cannot give away too much without giving spoilers, I would just like to say Max Hastings is the most hated character in this book and I hope the author gives an apt and satisfying karma in his storyline to ease the readers' irritation.
The ending of this book made me pity Pip even more. She just came out of the trauma the first time around and now to deal with the repercussions the second time around, it would definitely take a mental toll on Pip.
I remember thinking the series might turn out draggy after the first one but the author proved me wrong. The ending of this part kind of gives away the plot of the third one. Nevertheless, Holly Jackson would write it great as well. Looking forward to reading the third one in the series.
You can get your copy here: https://www.amazon.in/Good-Girl-Blood-Holly-Jackson-ebook/dp/B07Z5X3ZMD?ref=kindlecontentin100-21&tag=kindlecontentin100-21&gclid=CjwKCAiA8bqOBhANEiwA-sIlN_bUqNtNQdIxcutVSzRc9eEx5ssSVFXSnB6gjpHmEpLC3xA5DMNjbBoCubwQAvD_BwE