The Rape Trial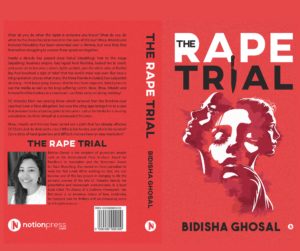 When Avni Rambha accuses Rahul Satyabhagi of rape, little did she know that she would be on the receiving end of hate and backlash. After tampering with the evidence and using political play, Rahul is declared innocent by the court. Avni leaves the country with her husband, shameful of the injustice done to her.
Fast forward to the present day, eight years later, the case stirs back to life when a sting operation is conducted on Rahul. And Rahul doesn't seem too innocent now.
What happens next is a series of events that involve three women – Rhea, Hitaishi, and Amruta.
Something that started as a one-time operation now spun into a web of its own which landed these three women in deep trouble.
What happens when these three women take justice into their own hands?
Read the book to find out.
"Rape isn't just that one time of sexual violence; women have to live with it long after it's done. Once you're dead, it's over. Murder, at least in my opinion, is not the best, not the most accurate response to rape." 

– Bidisha Ghosal, The Rape Trial
My thoughts on the book:
There are a few books that will always leave you shook. This is one of them. The impact that this book created is beyond what I expected.
I loved this book. From the start, I was really drawn to the book cover and the narration. The author gave us time to get settled and then picked up the pace which then never really slowed.
Each character was given depth and meaning. The girls, the police officers, and the journalists – each had their share of the story.
The injustice served to women is what tags along with the book.
This book has two parts. Rahul Satyabhagi and Urvi Nanda – each of 19 chapters. The first part is more about the rape and the second part is about the trial of Urvi Nanda.
The second part of the book shows how far the officers would go to penalize a woman into confessing something, and how it is being portrayed to the public in their favor.
Every woman, at some point or the other, faces double standards in her life that when she is treated respectfully as she should, it comes off as a surprise.
This book makes us think of how women are treated in society and how they should be treated. Though we have made little progress in society as women, there is still a long way to go.
"Every girl takes time to realize it's not just her," Amruta said. "We're all taught to hide these things, treat them like a small thing. Especially when it comes to who the boy is. It's this bizarre split in society where the boy doing it is nothing wrong, but you're wrong because he did it to you."

– Bidisha Ghosal, The Rape Trial.
About the author:
Bidisha Ghosal has done brilliant work with the narration of the story. She did not filter or simmer down any facts. She was so transparent with the book which is risky but still, she managed to do so. She did not back down when it came to the double standards that women face in society. She pointed out the plain ignorance that society has.
This book will definitely leave us raising questions about our judicial system. Bidisha is really brave for putting out this book that is so raw and intense. It is a sensitive topic and she narrated it in a way that is wholesome.
Though the first chapter was slow-paced, it turned into full strides and left me wanting to read more. It was so captivating and the language was easy to understand. This is a must-read book.
This book has full potential to getting adapted into a film. I would rate this book 4.5 on 5.
Get your copy here: The Rape Trial by Bidisha Ghosal