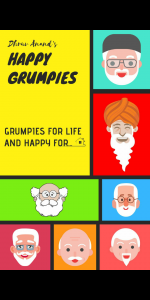 TITLE – Happy Grumpies 
AUTHOR – Dhruv Anand
GENRE – Fiction 
VERSION – E book
PAGE COUNT – 70 pages
Happy Grumpies is short story of seven Grumpy old men live together as happy family far away from their children at the Basera house for the past ten years. As they aged, they were ill treated by their own children. That made them leave their families and lose complete contact with them. 
This book opened with a small ruckus between Satish and Bhushan. Kulwinder being the eldest of all settled that and called everyone for breakfast. They all sat together and had their breakfast. One teased another with the cook Kusum. The Basera house was filled with nothing but Love and Joy. 
A letter arrived to the Basera house, for the first time in a very long time. It was for Satish. The company built by Satish was celebrating its 50th anniversary and it was an invite to be a part of it. The last time he spoke to any of his family members was ten years ago. Satish remained hesitant about the whole situation.
The other six family members got very excited and celebrated his success. Robby's secret got revealed. The youngest one, Mohan got admitted in the hospital and he fights for life. It was indeed an emotional ending.
Will Mohan recover ? Will Satish attend his company's 50th anniversary?
To know that , read the book. ❤️
First thoughts –
Happy Grumpies is my first read for 2020. I felt the cover was very attractive and colourful. It was not focused on one particular character.
The cover has a tagline " Grumpies for life and happy for… 🏠". It was my first time reading a book having seven senior citizens as the protagonist. Happy Grumpies is a sweet and short story of 70 pages.
What I loved about Happy Grumpies  –
I absolutely enjoyed reading Happy Grumpies ! We can take a very good and a necessary message from this book. The author didn't force his message on the readers, he conveyed the serious message in a light and humorous manner.At the beginning of the book, there were seven links and each link lead to a video. The video gave a brief introduction of the seven characters. I found that unique. 
The seven old men were strangers ten years before and ever since they entered the Basera House , they all lived together as a happy family. Kulwinder is the eldest and is a retired army major. Robby was a chef. Aafeem had his own perfume store. Satish was a businessman. Brij is a retired police officer. Mohan was the youngest and a happy go lucky man. Bhushan was a shopkeeper. 
Seven different personalities, share their happiness, sadness, joy and sorrow together. They find the love they longed for in the Basera house. My favourite among them were Brij and Mohan. Brij, being a retired police officer, he made everything look like an investigation. Mohan and his scooter ride was absolutely hilarious. The author, Dhruv Anand balanced humour and seriousness well. 
The ending was great and certainly emotional. I felt like I was watching a movie. As I finished the book I was left with a lot of thoughts. Only some books can teach you values and Happy Grumpies is definitely one such book. 
What I disliked about Happy Grumpies  –
Absolutely nothing. I enjoyed reading Happy Grumpies  🌸 I wish everyone would read this book and realise that the life we are living is what our parents have given us. 
Overall thoughts –
As parents age , they long for love from their children but often they are ill treated. It is so saddening there is an increase in old age homes , but these hopeless senior citizens need Love and care. The writing style is very simple. There is no need for a dictionary. You can read the e-book in a single sitting.