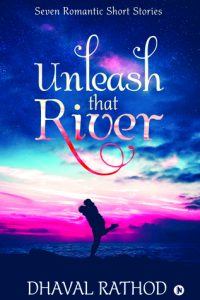 Unleash that river is a collection of seven beautiful romantic stories. The author Dhaval Rathod compares love as a river. He says, the river becomes dry and seeks for a Big hearted lover. The river gets frozen or it will be ready waiting to leap forth from its humble abode.
THOUGHTS ABOUT UNLEASH THAT RIVER 
1) Keys
It is about two people named, Dhyey and Nishita. The entire story revolves upon the title, Keys. Dhyey had flown from Mumbai to Rajkot. His mother was not at home and she had asked her close friend's daughter, Nishita to welcome his son back. Nishita has never met Dhyey but she has heard a lot about him and has seen his pictures. Both, Dhyey and Nishita wanted to know about each other but never told it out. The story is about how a bunch of keys can bring two people together. The story was a very cute read.
2 ) Dot every i and cross every t 
It was a different read. Varun and Puja had met only once through a marriage proposal. Varun was confused and couldn't make his decision with just a single meet. He asked Puja if they could meet out once or speak over call to get to know each other better. Puja refused.
They realise they had something in common. They both maintain journals. He asked her to share that with him and he would give his to hers.She refused that again in the beginning but later she thought it through and accepted that offer. That offer cleared all the confusion and Varun could give the best decision of his life. The title in the story plays an important part and I found it very cute and cheesy.
3 ) Why not ?
It is about Rashi, who works as a radio Jockey. She happens to interview Neel, a writer and a blogger. She gets impressed listening to his positive approach. When she is questioned about love, she remains hesitant. With a terrible past in her love life , she loses her belief in love.  
Can Mr writer / blogger prove her wrong ?
When life gives a second chance , should she take it ?
4 ) Immeasurable Nouns 
It is a high school romance. Karthik has been secretly crushing on Aditi ever since fourth grade. Aditi is tall, charming and intelligent. It also seemed that she hated boys outright. He wrote a romantic poem and the title was a pun, relating to her. He finds out she feels the same way for him in a cute way. Isn't it the best feeling ever ?
 5 ) Madly in marriage
This was a good one. It is about Swayam and Soniya who have altered opinions about arranged marriage, they feel marriages are not made in heaven. They fail in calling off their wedding, and now they have no choice than accepting it. Stuck in a wedlock. As days pass by, they find a connection between them and realise the beauty in marriage.
6 ) Hearts and Ice – creams
This is my favourite one. Tushar is crazy about ice creams and is a Dairy Engineer. Tushar had been a regular patron of Thandak ice cream parlour since he was seven. He noticed a girl, who regularly visits that place with her family as well but he never had the courage to tell a hi. She melted his heart. All of a sudden the girl stops visiting that parlour. He searches for her in every girl he meets. He could never forget his childhood crush.
Tushar happens to meet a girl at an interview. Her frankness and nature draws his attention immediately. They plan to meet at the Thandak ice cream parlour. That very evening, he finds his childhood crush. Who would Tushar decide to stay with ?
7 )  First flight second chance It is a good one.  Recently Heartbroken Amrita flies back to her hometown, Mumbai to spend time with her family. She curses destiny and rants about her ex boyfriend called her a bore. It is her first flight and she is scared of flying. A young man seated beside her tries to distract her showing magic tricks. A man made her laugh in her darkest of fears. This is amuses her. Would this guy mean something more ?
WHAT I LIKED ABOUT UNLEASH THAT RIVER –
Having read The Season Of Shooting Stars, I am fan for the author's choice of words. What I enjoyed the most, about the book is it doesn't limit to a particular age group or a theme. There is a high school romance, second chances, love at first sight, a story on Love after marriage, a story of love through a wedding proposal.
WHAT I DISLIKED ABOUT UNLEASH THAT RIVER –
At times , I found the usage of metaphor silly and annoying. All the stories were focused on only two characters. Other than that, it was a good read.
OVERALL THOUGHTS –
The cover looks very beautiful and each story takes about 15- 20 minutes only. It is a very cute read. The language is easy to follow. Unleash that River is an engaging book suitable for all age group.
TITLE – Unleash That River
Author – Dhaval Rathod
Publisher – Notion press