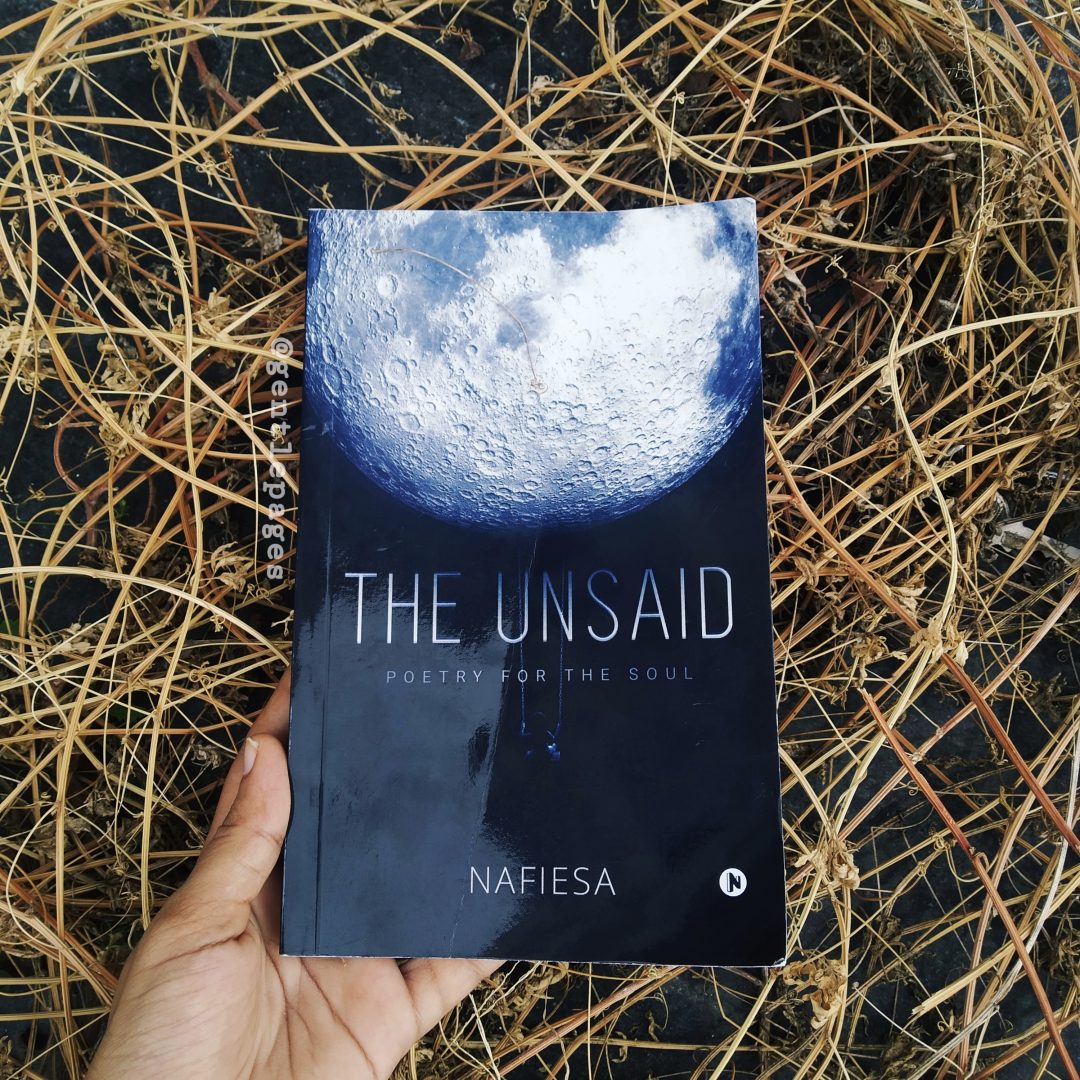 ---
 "You can conquer places, not spaces. 

   You can capture moments but not time. 

   You can forget people not feelings. 

   You can escape boundaries not memories."  
– Memories, The Unsaid, Nafiesa 
---
The Unsaid – Poetry for the soul by 

Nafiesa
First off, I love the way this book is structured. It denotes the different phases of life. The Unsaid by Nafiesa is a collection of 68 poems split under five different topics – Birth, Life, Love, Pain and Spiritual. The cover of this book is a star. It is so dreamy and beautiful. 
This was the first time that I read Nafiesa's work. I was pleasantly surprised. Most poems hit me right in the heart. While I enjoyed a lot of poems in this book, I couldn't connect with a few. Some poems were short and crisp. Most of the poems followed the modern "free verse" poetry. 
I enjoyed reading the piece of writing towards the end. It spoke about why we should not bottle up our emotions and feelings. I loved many poems, but my most favourite one was 'Memories' under the Love section. It was simple yet touching. There are captivating quotes before almost every poem. It kept the book engaging throughout.
---
The pain of choice ruptured my life

As to what was in my fate was for me to decide

The world said, "The right is right."

I still thought wrong would give me and insight.

I rebelled and turned the right ways around.

To be happy, I need not the consent of the world.

I did differently and chose to go the other way;

Realised no way was right or wrong.

Just the perception of your thoughts.

Makes even the right feel wrong. 

– Perception, The Unsaid, Nafiesa

---
I equally enjoyed reading Perception under Life and Imprinted under Pain. The message was very thoughtful. Readers will come across a variety of themes under each subject. I read this book in two sittings, and it was a light and meaningful read. 
I would recommend The unsaid to anyone who likes poetry and those who are looking for a quick read. 
Get your copy – https://www.amazon.in/Unsaid-Nafiesa/dp/1638507252
You might also like – https://gentlepages.com/the-rhythm-of-remembrance-book-review/
ABOUT THE AUTHOR – 
Nafiesa is an expressionist, poetess, writer and thinker. The Unsaid is her first collection of expressions through poetry. As a kid, she loved to talk to the moon, the stars and the rain, and when they spoke back, she captured it all on pieces of paper, and that's how her journey as a writer began. For the past several years, she has been exploring her voice as a writer. She is based out of Mumbai, where she lives with her husband and two beautiful children. When she is not writing, she loves listening and talking to her children and learning the true meaning of life from them. She also loves sunsets.