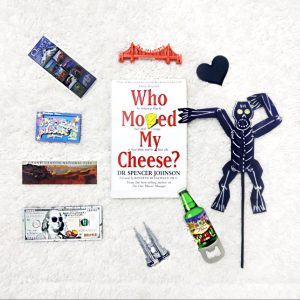 Who moved my cheese by Spencer Johnson is an amazing self help book. Change is the only thing that remains constant. Cheese is a metaphor for what you want in life, whether it is a good job , a loving relationship, money or a possession, health or spiritual peace of mind.
The maze is where you look for what you want – the organisation you work in ,or the family or community you live in. This book teaches us on how to deal with change without any hassle. The story of Who Moved My Cheese 🧀  shows how to take the changing situation seriously but not to take ourselves so seriously.
Thoughts about Who Moved My Cheese ?
The book Who Moved My Cheese is divided into three sections. In the first section we come across a gathering of some friends after a high school reunion. They talk about the changes happening in their careers , relationships and family life.
The second section is the crux of the book. The cheese story is about four characters – Sniff and Scurry , Hem and Haw. Sniff and Scurry are two little mice. Hem and haw are littlepeople. The mice and littlepeople have one thing in common, every morning the mice and the littlepeople go in search of cheese in the maze. Sniff and scurry have good instincts and they do not plan much to find the cheese. The two mice think of cheese as just food. The little people use their complex brains to find cheese and to them cheese means some sort of security.
During their search for cheese, the mice and littlepeople came across Cheese Station C. They found enormous supply of all kinds of cheese. Since then, every morning Sniff and Scurry went directly to Cheese station C. Hem and Haw made their home near Cheese station C. As days passed by, Hem and Haw got too comfortable in that situation. They almost forgot what it is to search for cheese in the maze. They did not pay attention to the small changes that had been taking place each day. 
One day to their disbelief, Hem and Haw found No Cheese at the cheese station C. Hem and Haw took cheese station C for granted and never noticed the changes. They could not accept the cheeseless situation.
To Haw, Cheese just meant feeling safe , having a lovely family. To Hem , Cheese was becoming a Big cheese incharge of others and owning a big house atop Camember Hill.
While Sniff and Scurry easily adapted and started their run in the maze for new cheese. They did not feel sad or complain about the cheeseless situation. Hem and Haw complained about the injustice occurred to them. The story revolves around how Hem and Haw deal with change. 
The third section of the book is the discussion. The friends discuss what they understood from the book and connect the story to their personal life. They talk about which of the four characters they resembled and how the story changed their way of thinking.
What I liked about Who Moved My Cheese 🧀 ?
I felt good after reading Who Moved My Cheese?. I must say that this book has been nothing but a benefit to me. It is a small book that teaches great life lessons. Who moved my cheese does not force the value on the readers. The book gives us a chance to discover who we really are and what can be done to make our lives better.
What I disliked about Who Moved my cheese 🧀 ?
Nothing. Absolutely enjoyed reading this book.
Overall thoughts 
Who moved my cheese? is simple yet powerful enough to change our mindset. The story suggests the fastest way to change is to laugh at your own mistakes – then you can easily let go and quickly move on. A book to be read in a single sitting. I highly recommend everyone to read this book. 💫
TITLE – Who Moved My Cheese?
AUTHOR – Spencer Johnson 
GENRE – Self Help
PUBLISHER – G.P Putnam's Sons