The Maidens – Alex Michaelides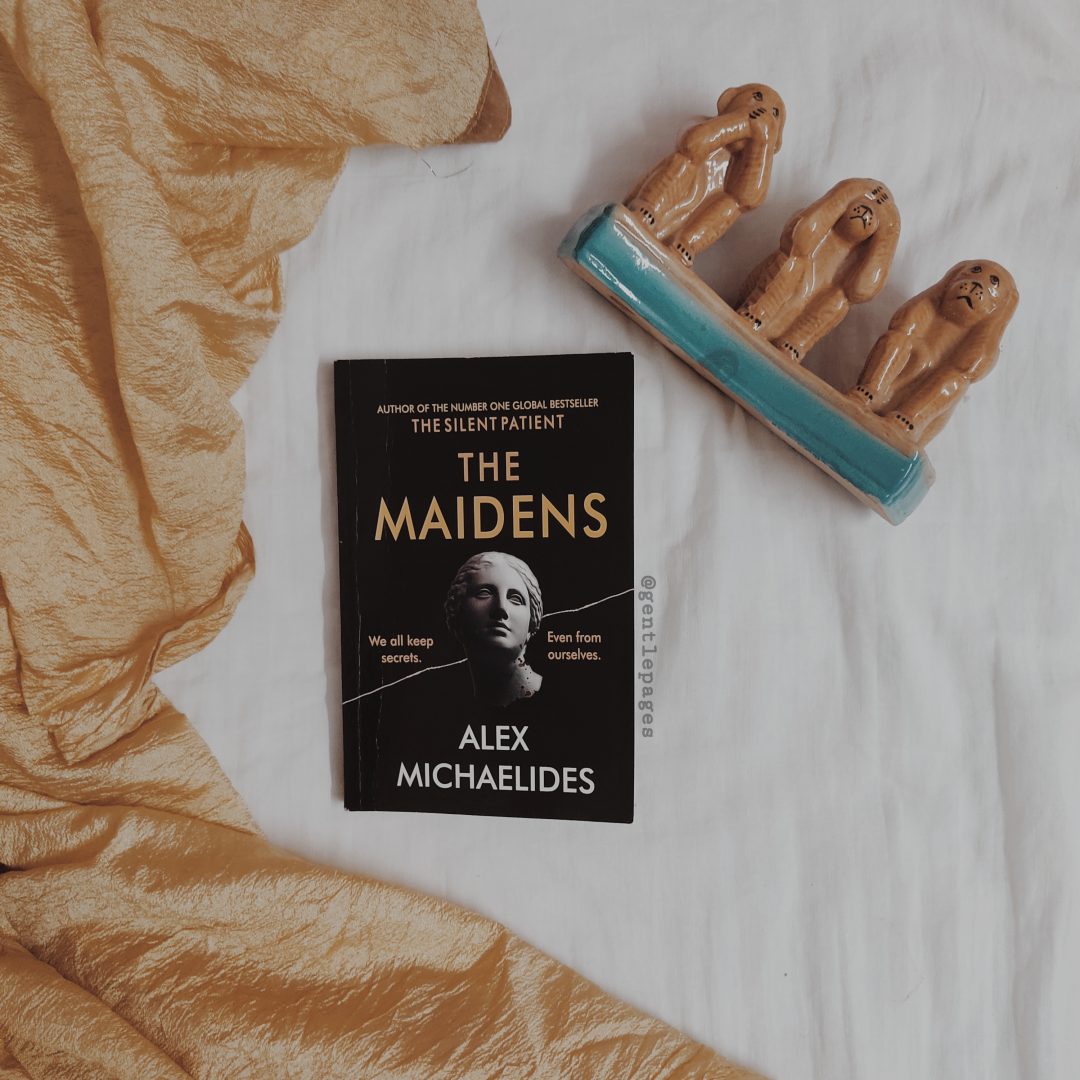 There has been a lot of buzz around The Maidens by Alex Michaelides. I have mixed thoughts about this book. The Maidens is a decent thriller. Since I loved The Silent Patient, I expected a lot but, it was not satisfying. You could read this book if you enjoy reading Greek mythology and want to start reading thrillers.
"After all, everyone's entitled to be the hero of their own story. So I must be permitted to be the hero of mine. Even though I'm not. I'm the villain."

– Alex Michalides, The Maidens. 
The Maidens by Alex Michaelides follows the life of Mariana Andros, a young widowed group therapist. Her life takes a huge turn after an upsetting call from her niece, Zoe. Zoe's best friend, Tara, was found brutally murdered at Cambridge.
Going back to Cambridge would be emotionally very difficult for her. Mariana had met her husband at Cambridge University. Mariana was devastated after Sebastian's accidental death. Zoe was the only family Mariana was left with, and she could not let anything bad happen to her. Mariana tried to understand the murder from a psychological aspect. Her suspicions grew on Edward Fosca. Edward Fosca was a young handsome Greek tragedy professor at Cambridge. She believed that Fosca was the key to solving this mystery.
The professor had an exclusive group of girls. He treated them with extra care and held separate classes. They were called the Maidens and, one of them was Tara. Mariana was almost convinced that he was the murderer but, the Investigating Officer did not find the professor guilty.
She did not have solid proof, and time was running out. Two more Maidens were found dead. She had to act fast, but the murderer was always one step ahead.
What did the murderer gain from this killing spree? Will Mariana prove Edward is the murderer?
"Love isn't conditional," Ruth said. "It's not dependent on jumping through hoops to please someone—and always failing. You can't love someone if you're afraid of them, Mariana. I know it's hard to hear. It's a kind of blindness—but unless you wake up and see clearly, it will persist throughout your whole life, affecting how you see yourself, and others too." 

– Alex Michalides, The Maidens. 
The Maidens by Alex was pretty slow in the beginning and, after 70-80 pages later, the pace gradually increased. I enjoyed the narration. The chapters were short. It made the story gripping and kept me wanting to know what happens next. This murder mystery came with a tinge of dark academia, Greek rituals and mythology. It made the plot more interesting and built the suspense.
What I disliked in The Maidens by Alex Michaelides –
The protagonist was very reckless at times. Mariana had gone to Cambridge to protect her niece, but she got herself into a lot of dangerous circumstances unnecessarily. I understand red herrings are very important in murder mysteries. Henry's storyline to the plot was highly disturbing. His part did not divert suspicion but broke the flow of the story. Every guy Mariana encountered was romantically interested in her. That was quite unrealistic.
What I enjoyed in The Maidens by Alex Michaelides –
The big reveal of the murderer was not a huge surprise compared to the reason behind it. The reason behind the murders did leave me stunned. I liked the crossover between The Maidens and The Silent Patient. The greek mythology about Demeter and Persephone was interesting.
I felt only Mariana had a lot of depth in character and, the rest seemed like red herrings bearing tiny secrets and clues. Alex Michaelides conveyed a similar theme of childhood trauma affecting the protagonist in The Maidens.
The author tried his best to convince us the murderer was Edward Fosca. At times, I did feel he could be innocent all along, but the clues hinted back to him. It kept me off balance throughout and with no idea how it all would end.
You might also like – https://gentlepages.com/the-silent-patient-a-terrific-thriller/
Get your copy – https://www.amazon.in/Silent-Patient-Alex-Michaelides/dp/1409181634
Overall, The Maidens by Alex Michaelides was a good thriller. It would take some time to get a hang of it, but once you do, The Maidens by Alex is a page-turner.