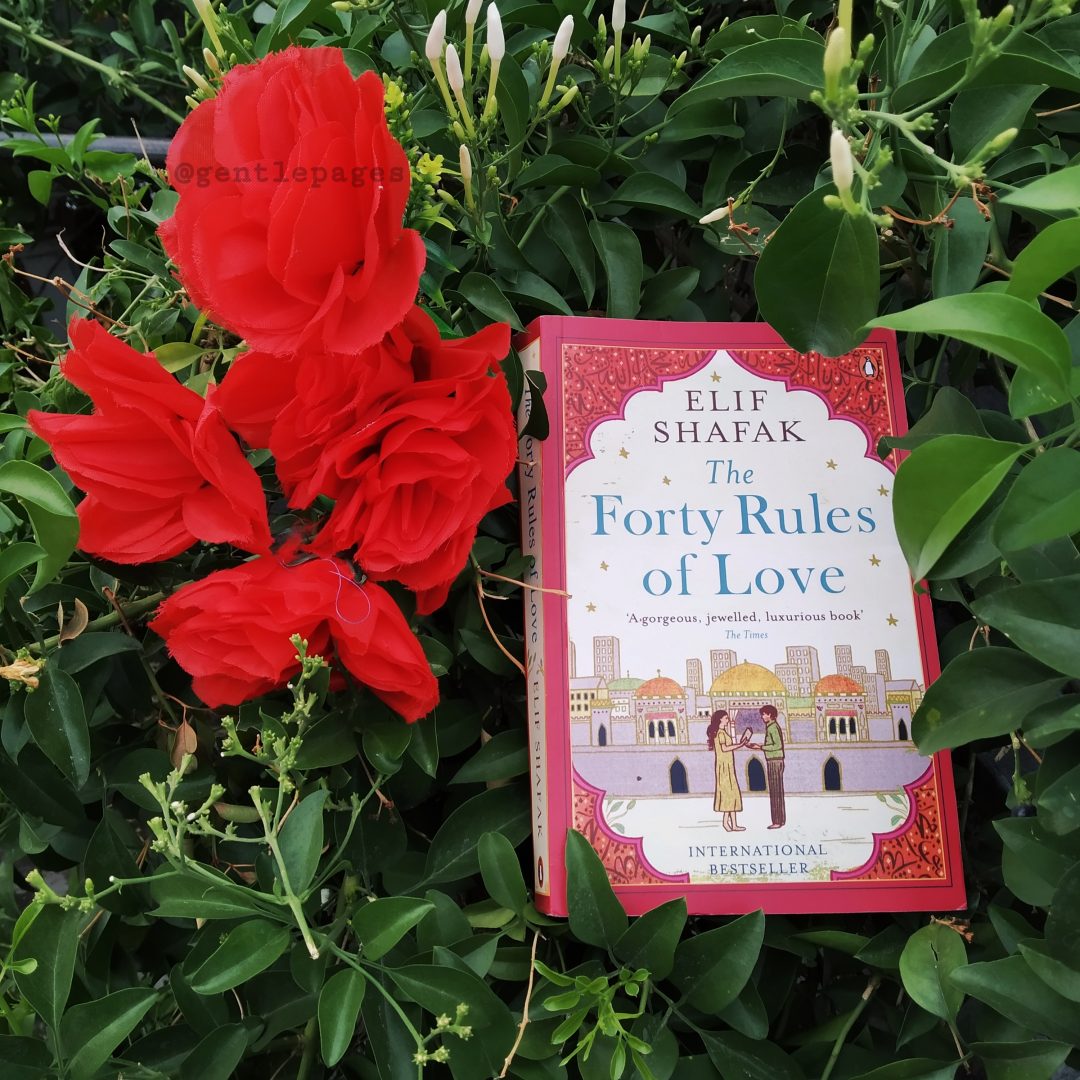 "Try not to resist the changes that come your way. Instead, let life live through you. And do not worry that your life is turning upside down. How do you know that the side you are used to is better than the one to come?"  – Elif Shafak, The forty rules of love
This book is a gem. "The forty rules of love" by Elif Shafak takes us through two parallel narratives – One set up in the contemporary modern world and the other in the mystical thirteenth century. Both the narratives are creatively woven together.   
Ella Rubinstein is a married woman living with her husband and three kids in Northampton. Ella lives a life that anyone would be envious of. If we take a closer look, Ella is unhappy and she is devoid of love. Two weeks before her fortieth birthday, Ella finds herself working for a literary agency and is assigned to reading a book entitled 'Sweet Blasphemy', written by a debut novelist, Aziz Zahara.  
The Sweet Blasphemy is the second narrative and we read it along with Ella. Sweet Blasphemy tells the tale of Rumi, his love and companionship for Shams and what turned Rumi into a great poet.  
The Sweet Blasphemy is so captivating and even changes Ella's perspective about love. The next thing we know, Ella and Aziz start exchanging emails with each other. Ella feels Rumi's story mir­rors her own and that Zahara-like Shams has come to set her free from her mundane, loveless life.   
---
"The forty rules of love" by Elif Shafak is divided into five parts – earth, water, wind, fire and the void, the five elements that constitute the universe. There is a constant shift between centuries and perspectives but the writing style is smooth and spectacular. The chapters are very short and I felt that kept the book very engaging.
There is a lot to explore and ponder about this book. "The forty rules of love" is a fiction with philosophical teachings that isn't too pushy or preachy. That is one of the best reasons why you must add this to your TBR list. I have fallen in love with Elif Shafaks writing. I will be reading more of her works. 
---
Shams of Tabriz is a mystic Sufi and the second story is an account of his forty rules of love for a peaceful life. Shams calls it 'The Basic Principals of The Itinerant Mystics of Islams' which can be attained only through love. The rules are written at the perfect timings in the story. I loved Shams of Tabriz. I loved how he treated everyone equally. I loved the stories he chose to tell during tough situations. Above all, I admired the friendship and love he had for Rumi.  
"Whatever happens in your life, no matter how troubling things may seem, do not enter the neighbourhood of despair. Even when all doors remain closed, God will open up a new path only for you. Be thankful! It is easy to be thankful when all is well. A Sufi/Lightworker is thankful not only for what she/he has been given but also for what she/he has been denied.

– Elif Shafak, The forty rules of love
Rumi's internal transformation from a scholar to a poet was heartbreaking yet beautiful. Desert Rose, the harlot was an intriguing character and her part was so good. I loved the connection between Ella and Aziz. Aziz is a good human and his back story was well written.  Ella's storyline is a bit predictable. The author has given more concentration to the second narrative and I loved it. Every chapter began with the letter B, and the reason behind it was very interesting. The number forty also had a beautiful significance and it has become my favourite number. Every aspect of this book is cleverly crafted by Elif Shafak.  
I took my own sweet time with this book and savoured every bit of it! The concept is simple yet beautiful. Let's worship God out of Love and not out of fear. Let's treat everybody with love and give no space for hate.  
"A life without love is of no account. Don't ask yourself what kind of love you should seek, spiritual or material, divine or mundane, Eastern or Western… Divisions only lead to more divisions. Love has no labels, no definitions, It is what it is, pure and simple."

"Love is the water of life. And a lover is a soul of fire."

"The universe turns differently when fire loves water." – Elif Shafak, The forty rules of love
Verdict – Go for it. The forty rules of love by Elif Shafak is certain to transport the readers to a heartbreakingly beautiful world of Shams and Rumi. 
Get your copy  – https://www.amazon.in/Forty-Rules-Love-Elif-Shafak/dp/0241972930
You might also like – https://gentlepages.com/child-of-illusions-beautiful-tale-of-undying-love/