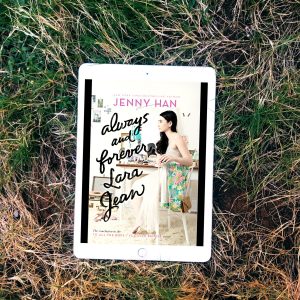 Lara Jean is happily starting her senior year at high school. Lara Jean and Peter Kavinsky have been dating for more than a year now. She has so much to look forward as this is her last year at high school. 
Peter Kavinsky already got in the University of Virginia through Lacrosse and also because he had decent grades. Lara Jean has applied for the University of Virginia (UVA) and a few other colleges. UVA was the hardest to get in and it was her top priority. William and Mary, the second hardest to get into and it was her second choice. It was two hours away from home and then the University of Richmond and James Madison, both only an hour away, both equally sharing the third place. All the colleges were within the state. 
Mrs Duvall suggested her to apply to just one out-of-state school, so Lara Jean applied to the University of North Carolina at Chapel Hill. It's really hard to get in but she picked it because it reminded her of UVA. It is her dream to study at the University of Virginia for many reasons. Especially because it was only fifteen minutes from home. Lara Jean, unlike her sister Margot, wanted to stay close to home and Peter.
Dr Covey, has been steadily dating their neighbour, Ms Rothschild. Ms Rothschild and Kitty share a very special bond. She joins them for dinner almost every night. Lara Jean and Kitty are truly happy looking at their Dad. 
Margot is dating Ravi, An Indian born in London. Margot is bringing Ravi home with her over spring break. Lara Jean loves Ravi's accent which seemed posh and sophisticated.
Stormy gifts Lara jean something special when Lara visits Belleview after a long time. Not just the gift, Stormy offers a valuable piece of advice, "Never say no when you really want to say yes."
There were a lot of exciting events to look forward, Her senior year trip to New York, Prom, Graduation and Beach week post Graduation.
Life seemed almost perfect for Lara Jean. She spent every day hoping to receive the confirmation mail from UVA. Things don't go the way she had wished. Lara Jean faces a nightmare and has to rework on all the things she had planned. 
Meanwhile, Dr Covey wants to take things to the next level in his relationship with Ms Rothschild. Margot has not accepted Ms Rothschild. She feels bad to give her mother's place to someone else. All the three Song girls accept their Dad's choice to propose for marriage to Ms Rothschild.
Lara Jean stress plans their wedding and she also bakes to release all her stress. Just when she has accepted the reality and made some alterations, something unexpected happens. A mail that changes everything.
Lara Jean is pressurised to make a very difficult choice. Not once in her life, she thought she would be put in such a situation. She has to give up on so many things if she does what her heart says.
To know what Lara Jean would have done, Read the book.
"I guess that's part of growing up, too – saying goodbye to the things you used to love."  
 – Jenny Han, Always and Forever, Lara Jean.
My Views 
Always and Forever, Lara Jean is the third and final book in "To all the boys" book series. I loved this book. Always and forever, Lara jean gave me closure. The author, Jenny Han gave a super cute and heartwarming ending. 
The characters are beautifully written. I loved how supportive the Song girls were and how they didn't want their Dad to miss out on anything in life. 
Peter Kavinsky is everything a girl can wish for. I loved how he tried to give his best and surprised her on her birthday. He made her feel so special. Personally, He will be one of my favourite fictional boyfriends.  
Kitty is hands down the best character. At times, she acted a bit matured that Lara Jean. She shared a special bond with Ms Rothschild. Stormy indirectly plays a pivotal role in this story.
I am happy that Lara Jean has good character development. She makes her decisions independently and takes control of things happening in her life.
Always and Forever, Lara Jean is a very light read. Jenny Han didn't add unnecessary Drama and gave a peaceful conclusion. I'm eagerly waiting to watch the movie adaptation for Always and Forever, Lara Jean.
I recommend you to pick this Young Adult story if you are in your teens or if you normally enjoy reading Cute and quirky love stories.
TITLE – ALWAYS AND FOREVER, LARA JEAN
AUTHOR – JENNY HAN
GENRE – YOUNG ADULT, ROMANCE.
PUBLISHER – SIMON AND SCHUSTER
PAGE COUNT – 336