Life Unknown, A Passage through India by Kartikeya Ladha is an enlightening travelogue. Having read the first book last year, I picked Life Unknown with huge expectations and it definitely didn't disappoint me.
Life Unknown is divided into three parts. Return to the motherland, A time of Anonymity and The Nameless Walk.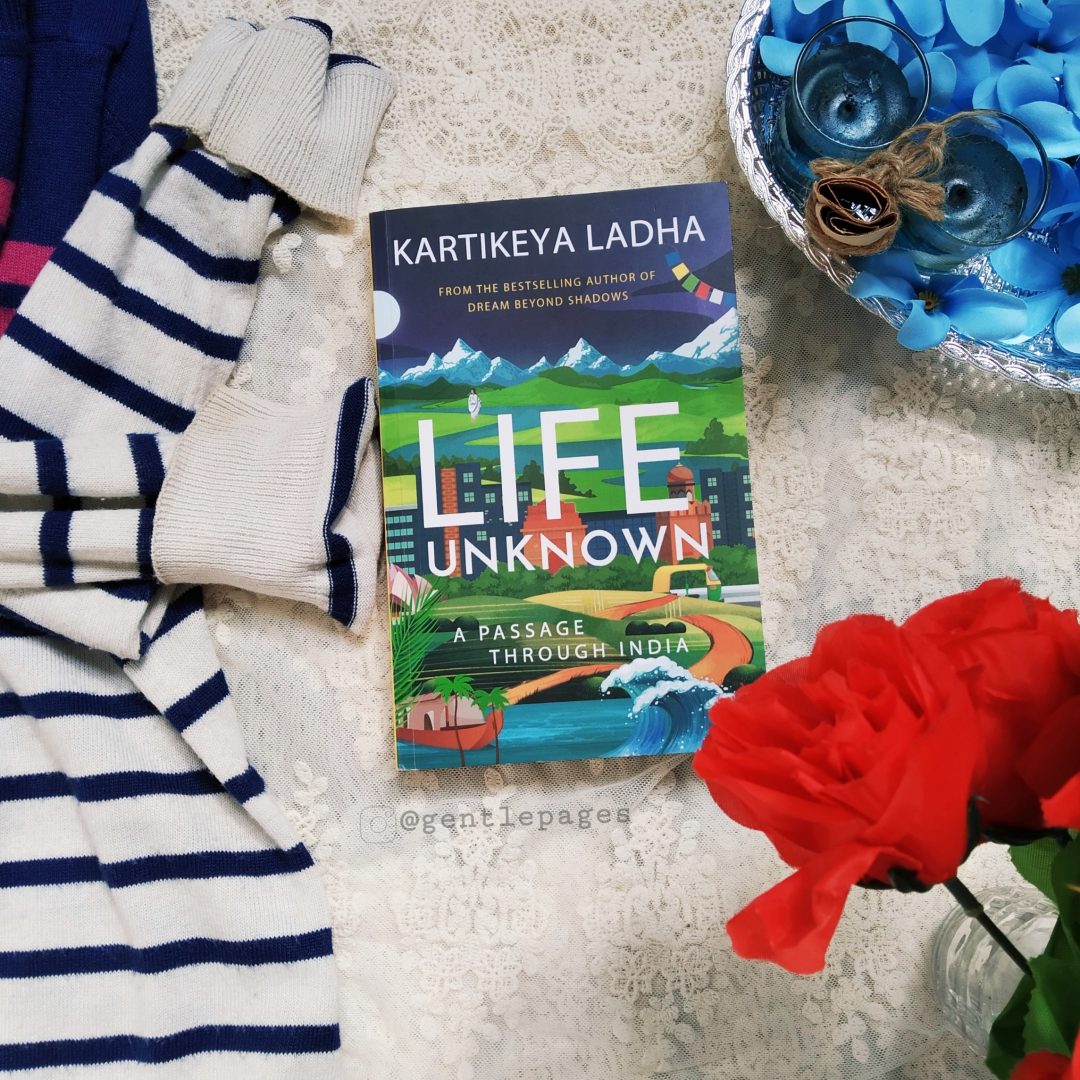 Each of us is a slave to our mind's prison.

– Kartikeya Ladha
The first part is titled – "Return to the motherland."
This part deals with the author's transition from a money-minded life towards a life with an unknown quest. The author starts with a thought-provoking question, "What are we running this race for?" He breaks the stereotypes by choosing to find out the true purpose of life rather than seeking a financially secured life. Based upon his gut instinct, the author begins his journey at Ladakh on a quest to make his inner world independent of the external world. He meets two amazing people, Dan and Shira, during his stay at Leh.
He then travels to the beautiful Zanskar nestled in the northern flank of the Great Himalayas. He is unexpectedly re-united with Dan and Shira and the three begin their journey together. He practices the Vipassana meditation, 10 days of solitary confinement at Leh. Vipassana is a traditional Buddhist and Indian meditation technique for enhancing mindfulness.
---

The second part of Life Unknown by Kartikeya Ladha is titled "A time of Anonymity."
Kartikeya travels to Gwalior to attend the Bhagawath Katha arranged by his father. He then travels to Rishikesh along with the Swami, who recited the Bhagawath Katha. Kartikeya plans to spend time with his grandparents and work at the factory in Gwalior. Within a few months, Kartikeya was fully occupied with business work and meeting. The author attends a retreat, and that was his wakeup call. He realised that this was not the right path for him and then sets his journey to the Himalayas.
On completion of his first novel, Kartikeya started reaching out to the publishers. Initially, he was faced with rejection and opposition. He remained calm and kept trying. He then found a publisher and published his very first book "Dream Beyond Shadows" A sudden vision appeared in his head. A message 'to walk through the south of India.' The author's parents thought it was a crazy idea but he remained firm and wanted to go no matter what. 
---
The final part was titled 'The Nameless Walk.'
He starts his walk from Kanyakumari, the southernmost tip of India. He learns the story of Swami Vivekananda from his uncle. He begins his walk wondering about the purpose of this nameless walk. He was interviewed by many local and national newspapers during his walk-through Kerala. Amma is a very famous spiritual leader known for giving out hugs. He shares his experience about his stay at Amma's Ashram. Kartikeya's walk came to end at Goa after 3 months with an invitation from the Governor of Goa.  
---
Life Unknown is a detailed account of the authors journey through India. He writes about the gender disparities in favour of men and various other social issues like climate change, greed, spirituality. Life Unknown ends with a beautiful message. Everyone must take time off and introspect the true purpose of life. 
I loved the small poems at the end of the chapters contemplating life and various other topics and the black and white sketch-like pictures depicting the adventurous journey through the chapters made this book unique. 
The pace of the book gradually increases. The first part is pretty slow compared to the rest. The third part is my favourite one. The cultural shift among the states of India was astonishing. The language used is really good. At times, I found certain topics described in an elaborative manner.
I recommend this philosophical travelogue to all travel buffs.
---
Get your copy – https://www.amazon.in/Life-Passage-Through-Kartikeya-Ladha/dp/9389160170
If you like this book, you can read – https://gentlepages.com/dream-beyond-shadows-an-extraordinary-travelogue/
About the author –
Kartikeya Ladha is an Indian author. Kartikeya published his first book 'Dream Beyond Shadows' in December 2018, which was based on his travels in Peru, South America. For his second book, Ladha took an 1100 km long walk from Kanyakumari to Goa, all by feet.