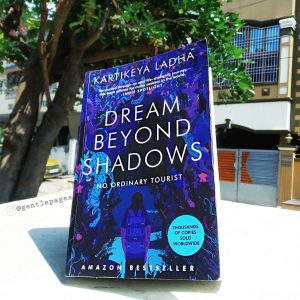 Dream Beyond Shadows is the author's travel journey. The book opens with the author, Kartikeya Ladha quitting his job. He was working as a door to door salesman for a solar energy start up based in Brooklyn, New York. Kartikeya Ladha was a successful happy man, living the American dream until it struck him that everything he believed he had was a delusion.
His inner voice kept asking him to surrender himself to the world. He couldn't ignore the voice and deep down he wanted to know the true purpose of his life. After thorough thinking he took a step towards the unknown reality.
Kartikeya left behind everything he built in New York and took his parents blessing in person in India. He started his journey towards Peru. He signed up to volunteer in an organisation that provided educational workshops to the children of their community in one of the districts of Lima called Villa El Salvador.
Kartikeya began his journey in Lima with no friends and family there and an unknown language to complicate things. He was welcomed warmly by his host family. He learnt a lot of great things and met a lot of good people in his stay at Villa El Salvador. As days passed he even learnt basic Spanish from his host family and friends.
He worked with the NGO from Tuesday to Saturday. Sunday and Monday were his weekend. He visited Barranco during his first weekend and met a lot of people who play a vital role in his travel journey. 
As weeks passed , Kartikeya wanted to take the next step. He began his journey towards mother Ayahuasca. He completed his work at the NGO and left El Salvador. He took time to prepare himself before the journey. He had to follow a particular and there were many restrictions to be followed. Ayahuasca was truly a life changing experience.
In the book, Dream Beyond Shadows, He clearly described the Ayahuasca process. The teachings of mother Ayahuasca is beyond great. He shared with us an enlightening experience. Kartikeya tattooed on his arm, designs of the entire journey because he wanted to carry the impact Ayahuasca created within him. He realised this true purpose in life. 
During his post Ayahuasca journey, he volunteered once again at the bar with his friends. He started writing a book about his life changing experience. From there, he travelled to Cusco. He travelled to the beautiful Machu Picchu. He met Joseph, who was a great person to spend time with. Kartikeya also helped in making Joseph's decision to undergo Ayahuasca. He travels to few other places and finally leaves Peru leaving a piece of his heart back there.
My views –
Dream beyond shadows was a good read. The author of Dream Beyond Shadows is Kartikeya Ladha. The book is about the author's travel journey. As i read this book, it took me to those places when I'm sitting home during this Quarantine.
Dream beyond Shadows is split into three parts. 
The first part of Dream Beyond Shadows  is titled as 'Complete Surrender', where he listens to his inner voice and makes the decision to take the step towards the unknown reality. The second part is titled as 'The Ayahuasca Journey', Where he clearly explains his life changing Ayahuasca experience.The third part is titled as 'Drifting mode', which is his post Ayahuasca journey. He realises his true purpose in life and works towards it.
There were many poems and pictures from his travel journey in the book. I enjoyed reading a particular thought provoking poem, "The power is in You". The writing skills of the author is really good. It felt as though I was traveling along with the author. There were many characters so it was a bit difficult to follow up. I, personally enjoyed reading the second part. His Ayahuasca journey totally amazed me.
The author, Kartikeya Ladha not only shared about his travel journey but also wrote about many social evils. Through his words, he stated all the harsh truths and the solutions. The cover is absolutely beautiful. 
I recommend this inspiring travelogue to all the travel buffs around the world. ❤️💫