What you wish for by Saikat.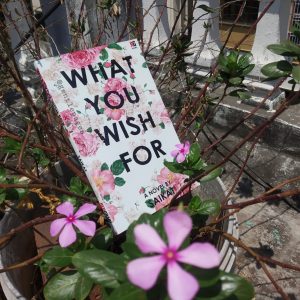 After years of struggle , Prisha Bose turned over a new leaf and gets herself in Mumbai against her parent's wish. Prisha rents a room along with Amrita and she joins as a Barista at a café. Arav is a regular customer at the café. Prisha instantly feels something for him at her first sight. She loses her grip and knocks the Coffee Beans jar as he orders. After a moment of humiliation, she gathers herself once again to look at him. A small conversation built between them and she feels connected to him. Prisha goes back home and sketches Arav's face with whatever she could remember.
Prisha Bose has come with a purpose leaving her dark secret behind, she has a bucket list written by her friend who is no longer alive. Ayesha didn't have the time to finish hers and Prisha feels it is her duty to fulfil all of Ayesha's wishes in that list. She is making all her moments count before it could slip away.
Things get a little out of hand , when the bitter truth is revealed. The truth serves as the answer for her behaviour. 
One thing led to another, Prisha and Arav fall in love. Prisha reminds herself that he isn't the reason why she has come here. Will destiny prove her wrong ?
Quote from the book –
 "Even the dust shines when it gets revealed in the sunlight…
   why cant you ?" – Saikat , What you wish for.
Prisha and Arav are the main characters of this story. The entire story revolves around Prisha. There are few other supporting characters who play important roles in the story. I found the story a little slow at the beginning but the pace of the story gets faster once it reaches the main plot of the story.The climax of the story is heart touching. I absolutely loved the point of view of every character in this story. Prisha's thoughts were realistic. 
There is always a dilemma between what others want from us and what we actually want in life. Every time we choose to do something we gain as well lose few things in life.  Life is a beautiful path of happiness and sadness. Life can get cruel and unfair at times but accepting the fact and counting all the memories is what that really matters.
The entire story is divided into 24 chapters. The title 'What you wish for' plays significant role in the book. What you wish for has a perfect balance of romance and drama and sorrow. It is a quick read , the book has less than 150 pages. I loved the cover, I could keep looking at it all day long :")
I really enjoyed reading 'What you wish for'. What you wish for is an emotional rollercoaster. The authors language is really good. It is simple and easy to understand. For a debut book , I would say the author, Saikat , has done a great job. I couldn't put the book down , definitely a page turner.This is my honest review , if you want to read short bittersweet novel , then do pick this one.
About the author – 
Hailing from the City of Joy , Saikat is a budding author who aspires to be recognised as one of the popular literary faces of the country. Currently pursuing a business degree, Saikat is more than interested in artistically fields. Saikat lives with his parents who enthusiastically have brought out the writer in him. 
'What you wish for' is his first book and he desires to bring out more from his passion for writing and spend his life reading and giving life to more stories.