Midnight Sun
Book Review
"I was a predator. She was my prey. There was nothing else in the whole world but that truth."
– Stephenie Meyer, Midnight Sun.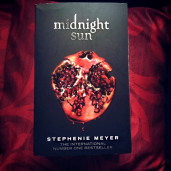 When Edward met Bella in Twilight, an iconic love story was born. We have only heard of Bella's perspective until now. After nearly fifteen years, we can finally get to know Edward's perspective in the long-awaited Midnight Sun.
"I was a vampire, and she had the sweetest blood I'd smelled in more than eighty years."
– Stephenie Meyer, Midnight Sun.
Thoughts on the cover:
To the people who are not aware of the concept/storyline of the twilight book series, this cover might seem odd and unpleasant.
As a Twilight series fan, I however think that this is a brilliant use of the forbidden fruit concept.
The cover is based on the Greek myth of Persephone and the pomegranate seeds story.
Edward sees himself as Hades – The God of the underworld and Bella as Persephone – The Goddess of spring. Even though Edward loves Bella, he doesn't want Bella to eat the pomegranate seeds (that is taking risks) dooming herself to the underworld (which is immortality in this case).
The comparison made is so apt for the story and it made me appreciate the cover even more.
 "She was too breakable, too good, too precious to deserve this. I couldn't allow my life to collide with hers, to destroy it"
– Stephenie Meyer, Midnight Sun.
Also, read: Stalker by Lars Kepler Book Review
Thoughts on this book:
I absolutely love this book so much.
You might think I am biased since I already like the series. But, no. I love this book so much more than Bella's perspective.
Twilight now seems like an average when compared to Midnight Sun.
When we only had Bella's side of the story, we didn't know what we were missing out on. When I had read twilight, I had often wondered what Edward would be doing at the moment. I wondered about his thoughts, his family, and just his everyday life as a vampire.
Stephenie Meyer had already warned us that the book would be a long one saying that Edward is an overthinker.
He definitely overthinks and I am not even annoyed by it. Even though he is an overthinker, his thoughts sounded so rational. He is constantly between a rock and a hard place and the way he expresses his frustration and his pain is just so touching.
Pitying a vampire might sound absurd until you read this book.
Edward is such a gentleman and that is how I fell for a fictional character.
It was strange, how I could feel Edward's pain more than Bella's. The love he has for Bella is so pure and almost unreal.
It was nice to know the reason behind his every silence. Somehow a vampire was being more reasonable than a human.
Edward can be funny at times and it was something that I never thought he would be capable of. Never in my dreams did I think Edward would be jealous of an average human high school student and I was laughing at his mental cursing.
The shift from Edward's denial to him accepting his love for Bella was so heart-warming.
I loved the different dynamics between Edward and his family members.
"Edward, dear, I can hear you dripping on my floors. Please change into something dry and mop that up."
This was said by Esme to Edward. The thought of a vampire mopping the floors had me laughing.
The constant turbulence between Rosalie and Edward was something that I found necessary in this book and it made the story even more complete.
When the reason for the book title made sense to me, I was speechless.
The climax of the book felt like an action movie and the narration was top-notch.
"Could a dead, frozen heart beat again? It felt as though mine was about to."
– Stephenie Meyer, Midnight Sun.
What I did not like:
The only thing I did not like is that the chase at the end was a bit dragged. With Bella, we never had that problem since she can't even walk two steps properly before tripping and falling down.
Even though twilight was not up to the mark story-wise, Edward's perspective is something much better and something that fans would love to look forward to.
This book left me happy and sad at the same time. I thoroughly enjoyed my time reading this one and I don't think I would ever get over my crush on Edward.
"Her heart fluttered; my dead heart felt warmer."
– Stephenie Meyer, Midnight Sun.
I would rate this book 4 on 5 stars and this is definitely one of my forever favorites.
Buy your copy here:  https://www.amazon.in/Midnight-Sun-Stephenie-Meyer/dp/0349003637/ref=sr_1_2?crid=VCY7Z0XI1EUP&dchild=1&keywords=midnight+sun+by+stephenie+meyer&qid=1608795034&sprefix=midnight+s%2Caps%2C301&sr=8-2