Together we were whole by Namrata Gupta 
Book review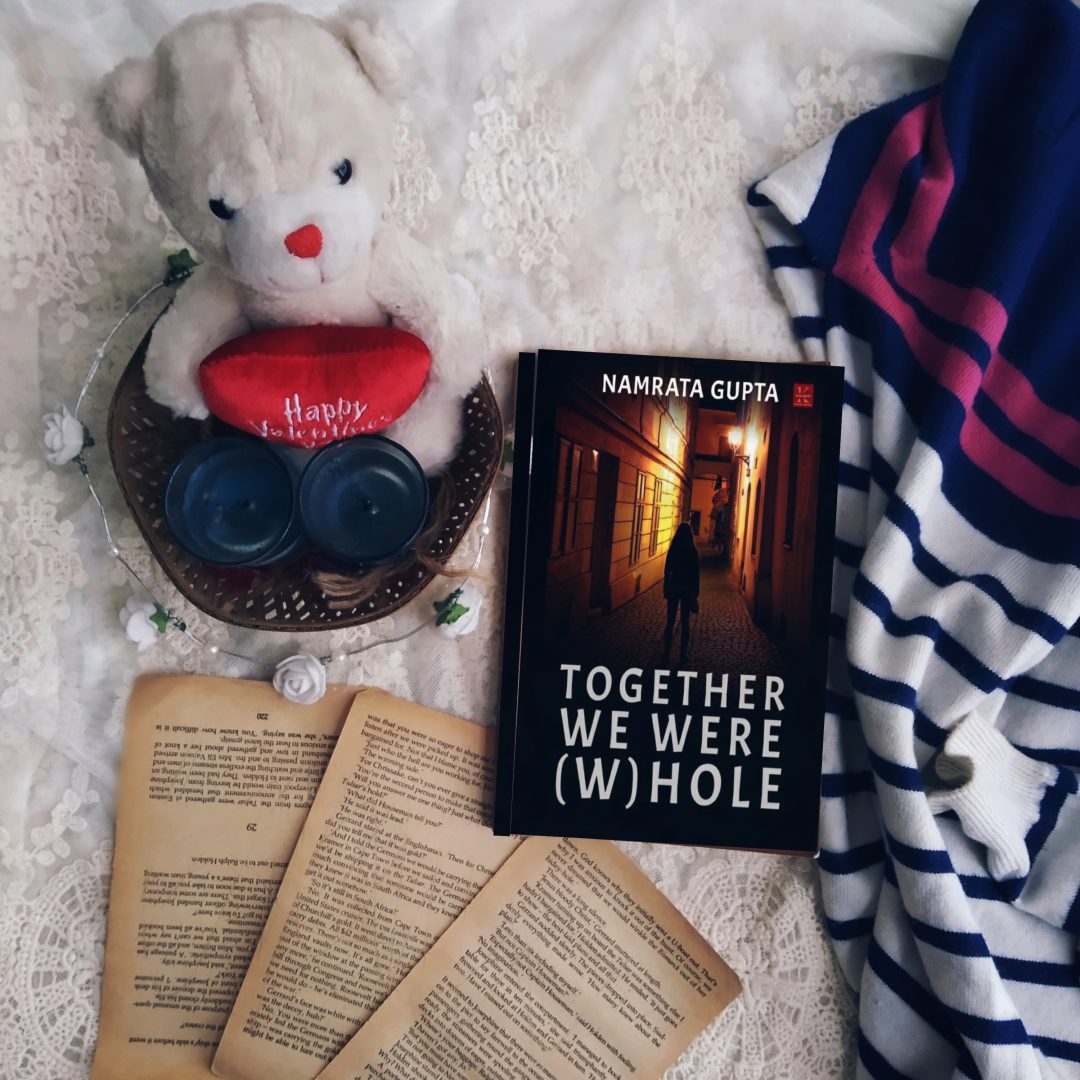 Together we were (w)hole begins with Sanaya Sharma plotting against Siddharth Sachdev, who seemed to be her business partner. As the story progresses, we learn that Sanaya and Siddharth were once soulmates.  
Sanaya was a lively and innocent girl who had just joined in the M & S Consultancy services. She met Siddharth on her very first day to work and was instantly drawn towards him. Luck was on her side, and Siddarth was assigned to show her around the office as it was her first day. 
As days passed by, Sanaya and Siddharth connected well with each other and they even shared a lot of common interests. Their office romance went steadily, and Sanaya felt that she had met the love of her life. Together they completed each other.  
Her relationship was not all roses ever since Misha had entered their life. Sanaya got possessive as he started spending more time with Misha. Misha's father, Mr Kashyap, had offered an investment opportunity and that was one of the reasons for her relationship to collapse. 
To make things worse, Siddharth breaks up with Sanaya on her birthday. Sanaya tries to fix her relationship but all her efforts are wasted as he doesn't even try listening to her. Sanaya breaks down and loses her mental sanity after their break up.   
Sanaya comes across a newspaper article that changes her. She rises like a phoenix and is all set to face life once again. Sanaya unravels the truth behind Mr Kashyap and family. Sanaya has a new purpose to enter Siddharth's life now.  
How was Sanaya going to seek revenge at Siddharth?
To know more read Together we were (w)hole by Namrata Gupta 
My thoughts about the book – 
 Together we were whole by Namrata Gupta was a short and fun read. This story can readily be made into a Bollywood movie. Betrayal and Revenge is the theme of this novel. This book can be split into halves.  
"Someone doesn't always need a gun to kill you. Sometimes, their actions are enough. You don't need an assassin to kill you. Sometimes, a lover is enough." – Namrata Gupta
First part – Love and Betrayal  
The first part of Together we were (W)hole by Namrata Gupta was pretty slow. All the characters were well written. At times, I found their romance a bit too cheesy. The story takes a whole new turn with the entry of Misha. She was the real game-changer of this story. Love is a powerful weapon and we must wisely bestow such a weapon in the right hands. It was sad to read that money and power can influence even the strongest of bonds. 
Second part – Revenge and unravelling the truth  
The pace of the book increased in the second half of the book. The second part of this story can be also termed as the Re-birth of the protagonist. There were so many twists and turns in the latter half. Sanaya had nothing to lose and was all set to get back at Siddharth for his wrongdoings. As we travel through Sanaya's perspective throughout the story, her journey felt very personal. Mr Kashyap's secret was shocking, and his past was sorrowful.
The ending surprised me, and I really enjoyed reading this romantic thriller. 
I read this book in a single sitting. Together we were (w)hole by Namrata is a page-turner. There is a shift between the present and past which made the story very engaging and interesting. The language used is simple and easy to understand. The chapter titles were intriguing. I would recommend Together we were (w) hole for beginners and if you are in search of a quick read to get over your reading slump. 
I would rate this book a four on five.
Best buy – https://www.amazon.in/Together-we-were-W-hole/dp/9387780937
You might also like – https://gentlepages.com/the-stranger-trilogy-book-review/
 About the author – 
Namrata Gupta is the author of three popular novels, 'A Silent Promise' (2015), 'The Full Circle. Stumbling Upon A Sinful Mystery' (2018) and 'Together We Were (W)hole' (2020). She also has a short story titled 'One Wedding Three Murders' (2018) to her name. Her books have won many hearts.
'A Silent Promise', a reader's favourite, was released by Mr Sudhir Mishra (Indian film director) at Gurgaon International Film and Literature Festival, held at DLF Cyber Hub (2015), where a reading session was also conducted for the book. 'The Full Circle. Stumbling Upon A Sinful Mystery' was best ranked #26 in Crime, Thriller and Mystery and #33 in Contemporary Romance on Amazon