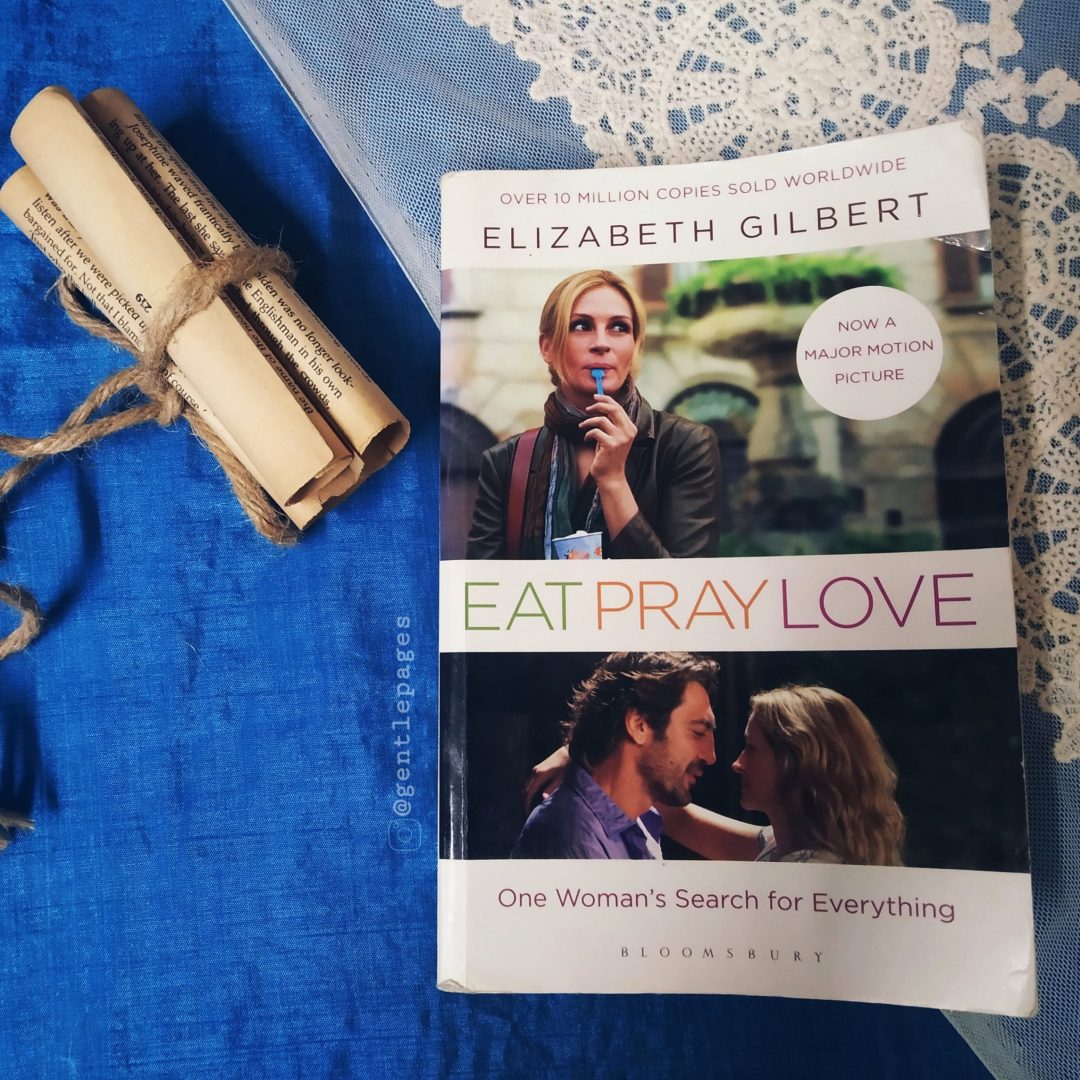 Eat Pray Love is Elizabeth Gilbert's journey to the three I's – Italy, India and Indonesia. Elizabeth is in her mid-thirties, married for 8 years and has a good job. Although Liz seems to be leading a good life, she is hesitant to take the next step in life and so she decides to break off her marriage. To make things worse, her rebound fling also ends on a very bad note.  
Liz suffers from an emptiness within her and spends several sleepless nights searching for happiness and what she wants. Liz is a book writer and is allowed to travel around the world for a year and share her learnings. 
The next thing we know she is at Rome, Italy. This is my most favourite part of the book. Liz indulges herself in all the Italian delicacies and explores the term pleasure. She enrols herself at the Leonardo da Vinci Academy of Language Studies for learning Italian. Liz describes the beauty of Italian, and it certainly did make me want to learn Italian. I learnt beautiful Italian phrases and someday I'd love to visit Italy too. The first section of Eat Pray Love is a complete delight for food lovers.  
Liz travels throughout Italy, encounters a lot of people and most importantly overcomes her depression without taking pills. Although Liz is yet to figure out what she has to do next but she knows what she deserves. 
The second part of Eat Pray Love is her travel to India. She lives in an Ashram, located in a remote rural village. In this section, we learn the importance of Yoga and meditation.  
"The Bhagavad Gita–that ancient Indian Yogic text–says that it is better to live your own destiny imperfectly than to live an imitation of somebody else's life with perfection."
― Elizabeth Gilbert, Eat Pray Love. 
Yoga is the effort to experience one's divinity. Liz is assigned to scrub temple floors as a part of "Seva" or selfless service. Liz finds a lot of trouble in staying focused during meditation initially. Liz meets a very important person in her journey at the Ashram, Richard from Texas.  
During one of her meditation sessions, Liz experiences soft blue electrical energy pulling through her body which was fascinating to read about. Liz ends things for good with her rebound lover during her stay at the Ashram. 
Vipassana meditation teaches that grief and nuisance are inevitable in life, but if we plant ourselves in stillness for long, we will, in time, experience the truth that everything does eventually pass.  
Liz travels to Bali to reunite with the old medicine man with a hope that he would remember her. Bali is a beautiful place and learning the history behind it was nice. Her final search was the balance in life and the feeling of contentment. There were many beautiful lines about happiness and the efforts we need to take to find it. She meets many important people at Bali, and this part of her journey is very interesting. 
"Happiness is the consequence of personal effort. You fight for it, strive for it, insist upon it, and sometimes even travel around the world looking for it. You have to participate relentlessly in the manifestations of your own blessings.

And once you have achieved a state of happiness, you must never become lax about maintaining it. You must make a mighty effort to keep swimming upward into that happiness forever, to stay afloat on top of it."
― Elizabeth Gilbert, Eat Pray Love. 
Eat Pray Love is an amazing travelogue. I took a really long time to finish reading Eat Pray Love not that it was boring but there was a lot to learn from Eat Pray Love. This is Elizabeth Gilbert's journey in search of her word. I loved her travel through Italy and Bali. There were quite a lot of things that we could relate to. The second section at India was quite draggy and complex. Not everyone can afford for a multi-destination journey. 
The description is detailed and there is a subtle humour carried throughout the book. I loved the thought process gone behind splitting the book into 3 sections with 36 chapters each.  She meets Felipe at Bali and I loved what she shares with him. At times, I found her too whiny and seeing the bad out of every situation but who isn't flawed?
I watched the movie right after reading the book. Julia Roberts was fantastic, but I felt the depth was comparatively less in the movie. Eat Pray Love is a must-read. 
Read the second part, Committed to find out what happened after Eat Pray Love. 
About the author – 
Elizabeth Gilbert is an award-winning writer of both fiction and non-fiction. Her short story collection Pilgrims were a finalist for the PEN/Hemingway Award, and her novel Stern Men was a New York Times notable book. Her 2002 book The Last American Man was a finalist for both the National Book Award and the National Book Critic's Circle Award. 
Her memoir, Eat, Pray, Love, spent 57 weeks in the #1 spot on the New York Times paperback bestseller list. It has shipped over 6 million copies in the US and has been published in over thirty languages. A film adaptation of the book was released by Columbia Pictures with an all-star cast: Julia Roberts as Gilbert, Javier Bardem as Felipe, James Franco as David, Billy Crudup as her ex-husband and Richard Jenkins as Richard from Texas. 
 
Get your copy here – https://www.amazon.in/Eat-Pray-Love-Womans-Everything/dp/0747585660
You can also read – https://gentlepages.com/ive-never-been-unhappier-a-powerful-memoir/
Book Name: Eat Pray Love
Author: Elizabeth Gilbert
Genre: Memoir, Travelogue
Originally Published: 16 February 2006
Publisher – Bloomsbury