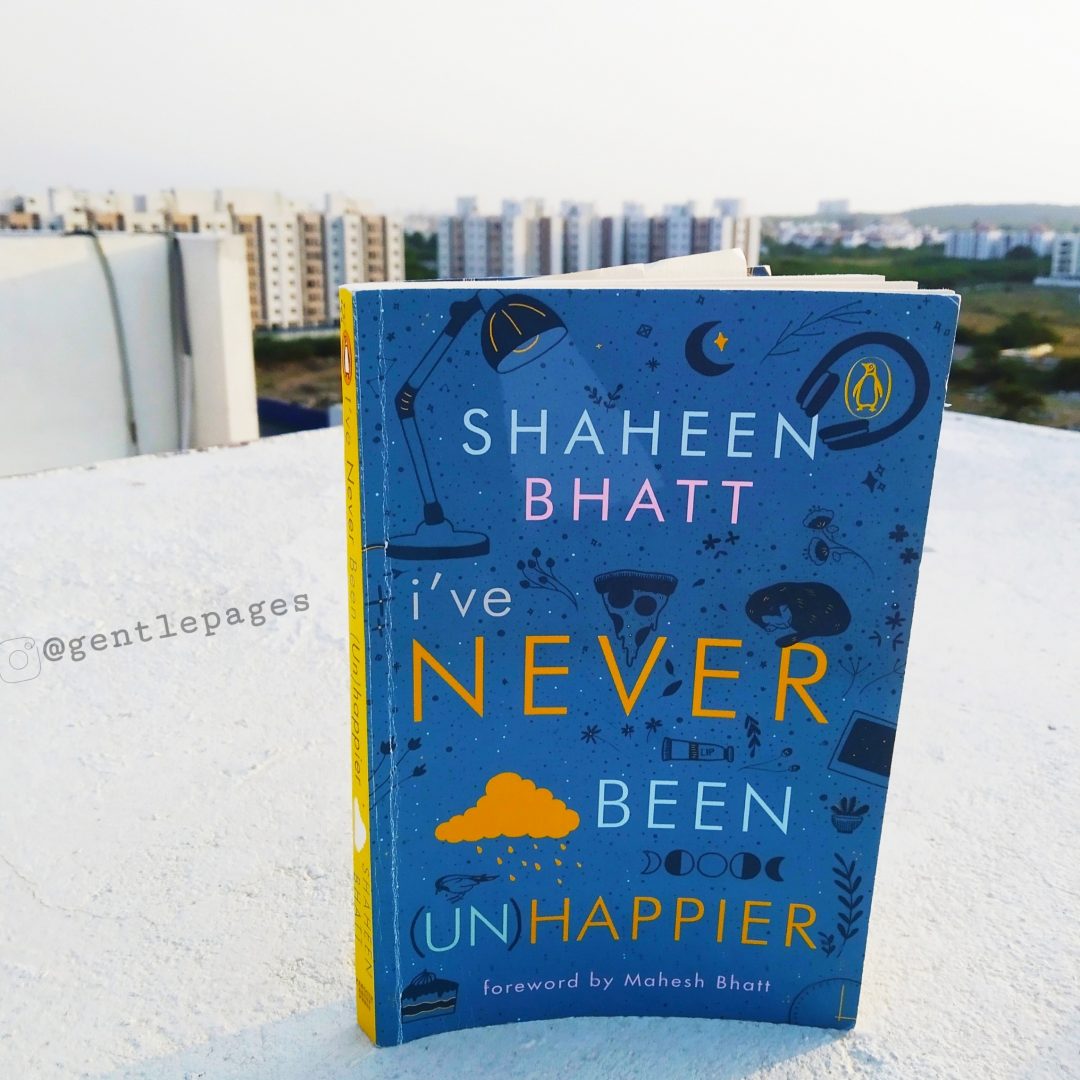 I picked this book in May as it is the month of mental health awareness. I've never been Unhappier by Shaheen Bhatt is a moving and sensitive memoir.
Shaheen Bhatt has written about Depression, Insomnia, Anxiety, Shame, Embarrassment, Panic attacks and even about Suicide. This book answered several questions that I had in my mind. I think she took a great step by sharing her journey with Depression.
"Monsters like depression live in the dark, and the way to turn on the light, is by talking about it." – Shaheen Bhatt, I've never been unhappier.
Mental Health. Not many people understand the importance of this topic. It is really hard for someone to come out of a dark place mentally, let alone share it with someone. 
All they ever need is support but they never ask it loud, scared and ashamed if they would get judged for it. The road to progress is never a straight one. It has a lot of ups and downs. Only when people stop shaming and start caring, the world would become a better place.
It took a long time for me to finish this book as the author shares her experience battling with depression – raw and unfiltered.
The author Shaheen Bhatt first clears the misconceptions about the term depression. Depression is a common mood disorder and a serious medical illness. Shaheen Bhatt was living with the major depressive disorder. 
Shaheen Bhatt has no PhD in psychology, but she has lived almost 21 years with depression. She indeed took a brave step by sharing her personal experiences with depression to prove that it is nothing to be ashamed of or to be judged on.
We learn about the author's life right from her birth till where she is now. She speaks about her parents, childhood and how her life changed after her sister was born.
The teenage years filled Shaheen with insecurities about her appearance and grades. Many do not realise that a small incident can make a huge impact on a child's mind. Shaheen Bhatt shares a troubling incident from her childhood. A photoshoot that made her question about her self-worth. A photoshoot that sowed the seed of insecurity.
Insomnia and depression came hand-in-hand. Shaheen Bhatt had always battled for a good night's sleep. She was fourteen when she misunderstood that suicide was the route towards relief. Her young age and inability to understand about death was the reason for suicidal thoughts at fourteen.
Their caretaker's death taught Shaheen that death was an irreversible end. She realised that suicide was no longer an option as it was a terrible thing to do to the ones who loved her. 
Panic attacks are real. A panic attack can make a person feel like the walls are closing in especially at places provoking stress and anxiety. Shaheen Bhatt reveals that she had her first panic attack while getting a haircut done.
Anxiety and depression are inseparable, but they contradict each other. Depression can make a person feel stuck and certain that there is no solution to this. Whereas anxiety, can make a person feel uncertain and something terrible might happen.
The author states that living with depression isn't easy, but loving someone who lives with depression isn't easy either. The symptoms of depression are psychological. It is sad that some people still tend to assume that depression is just an excuse to cover their laziness or a way to seek attention.
"We want everything to be permanent―relationships, love, beauty, youth, happiness. But the truth is permanence is an illusion, and like everything else in life happiness also comes and goes. Trying to be happy forever is like trying to stop water from slipping through your fingers. It's not possible, and the only way forward is to realise and accept it." – Shaheen Bhatt, I've never been Unhappier.
Her depression journey taught her a valuable lesson. Neither happiness nor sadness can remain constant. Perpetual bliss is a lie. The life portrayed in social media is a lie. Everyone's life seems to be perfect for social media, but not so in reality. The society has made everyone believe that they have to be happy at all times.
Her pain shaped her life and she learnt to accept and readjust her life accordingly. She didn't leave her pain go to waste. Her pain created and will create an impact in many people's lives. It did in my life. 
She has included excerpts from her diary, a suicide note she had written and pictures with her family. I would recommend this powerful memoir to anyone who wants to read about mental health.
About the Author – Shaheen Bhatt is a celebrity child. Shaheen Bhatt is the daughter of filmmaker Mahesh Bhatt and actor-director Soni Razdan. Shaheen Bhatt is also the sister of actor Alia Bhatt. In the year 2018, she released her book, I've Never Been (Un) Happier.