Reading a Fiction is one of the best ways to understand another person's perspective. My favourite way to escape from the reality is to curl up with a romance novel. Books are probably the only place where old-school romance still exists. Romantic fiction ranges from Happily ever after to romantic tragedies.  
 
Sometimes all we need is a good cry. Not all love stories are rainbow and butterflies. Our feeling of empathy is certainly bound to grow as we pick these beautiful gems.
---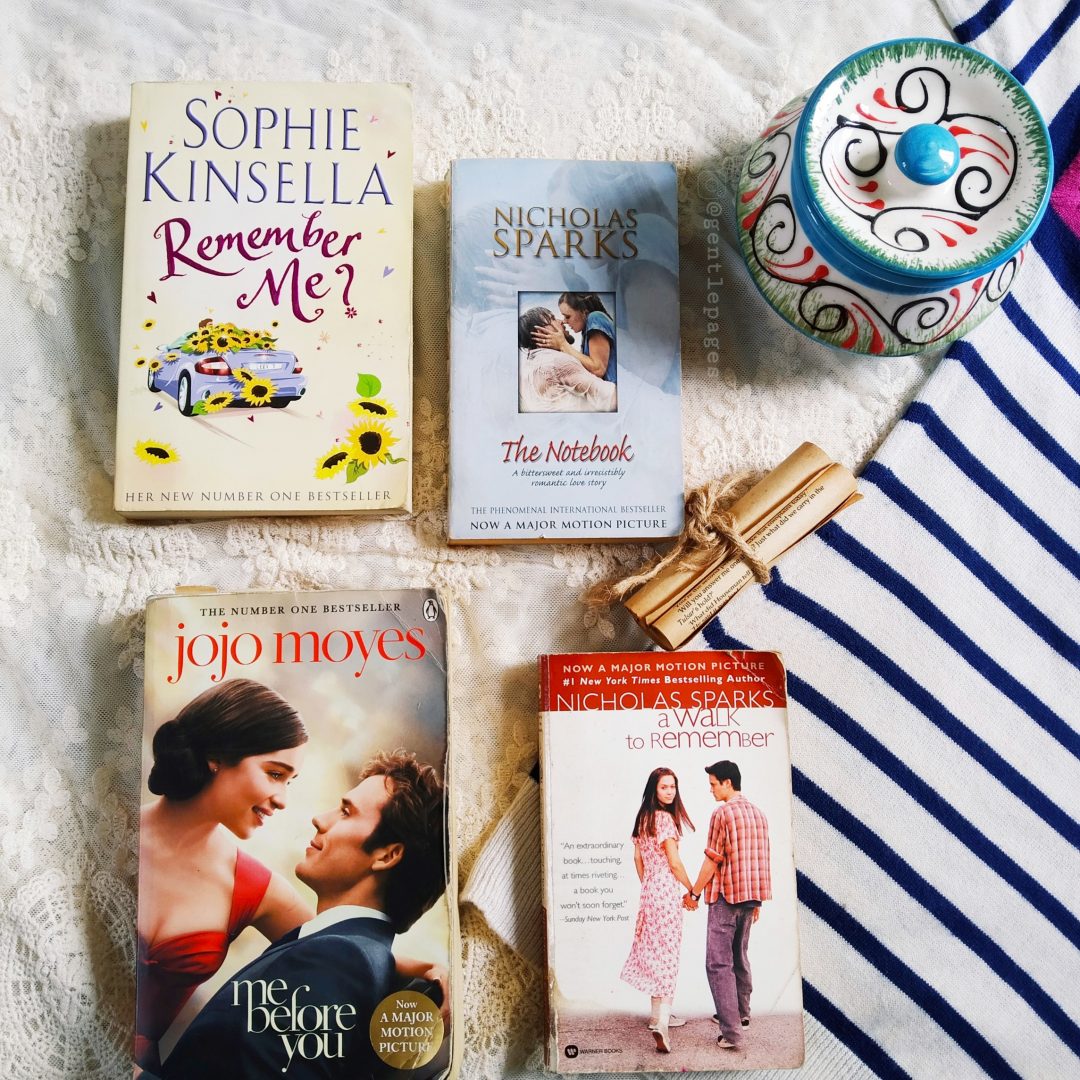 ---
 
These are the four Romantic Fictions that stood out for me in the year 2020.  
 
1.Me Before you by Jojo Moyes  
2.The Notebook by Nicholas Sparks  
3.A walk to remember by Nicholas Sparks  
4.Remember me? By Sophie Kinsella  
---
Me before you by Jojo Moyes  
Louisa Clark lost her job at the Battered Bun. She offers to work as a private caretaker for a broody young quadriplegic man, with zero experience in that field. Will used to live an adventurous life but now he is confined to the wheelchair and his bed. Slowly, Will starts to enjoy Louisa's presence and her witty behaviour. He encourages her to try new things in life. He pushes her to step out of her comfort zone. 
Lou overhears something she shouldn't have heard. She cannot afford to lose him. Changing people's mind is the hardest thing to do.
Can Louisa Clark change Will Traynor's mind?  
I laughed, I blushed, I rolled my eyes, I cried as I read every page in this book. This book is an emotional roller coaster and deserves every appreciation in the world. I highly recommend you to read Me before you. 
To know more about this beautiful love story – https://gentlepages.com/me-before-you-jojo-moyes-book-review/
Best Buy  – https://www.amazon.in/Me-Before-You-Jojo-Moyes/dp/0718157834
---
The Notebook by Nicholas Sparks  
A love story like none other. A love story that stands the test of time. The Notebook had me in tears by the end. The Notebook begins with an Eighty-year-old man reciting a heart touching story about Noah Calhoun and Allie Nelson, hoping for a miracle to occur.
It was the year 1946, and Noah had just returned from the war. He spent his time restoring an old plantation house, and reminiscing about a girl from his past. It had been fourteen long years but the summer he spent with her was engraved on his heart. Allie Nelson is engaged to Lon Hammond, a successful lawyer and a gentleman. Lon belonged from a good family and had great accomplishments, which were the only considerations for marriage. He was good to her yet Allie felt a void in their relationship. Allie longed for the love she received fourteen summers back.
She comes across something unbelievable on the newspaper. With her wedding preparations on the swing, Allie Nelson takes a brash decision and drives to New Bern. Allie stands once again in front of Noah after fourteen years. Will this meeting rekindle the love they shared once again?
Would she choose to stay with Noah or go back to Lon?
Who is the man reciting this story to? What is the miracle he is hoping for?
The Notebook is an engaging and a moving tale that will answer all these questions as the story progresses. Noah and Allie's reunion enfold into beautiful and a heart touching story. 
To know more about this Romantic Fiction – https://gentlepages.com/the-notebook/
Best buy – https://www.amazon.in/Notebook-Nicholas-Sparks/dp/0446605239
---
  A walk to remember – Nicholas Sparks 
This was my first Nicholas Sparks Book. I absolutely enjoyed reading this bittersweet novel. This story shows the power of Love. Despite the warnings, A Walk to Remember got me crying at the end.  
Back in 1958, Destiny brought Landon Carter and Jamie Sullivan together. Landon Carter is a playful seventeen-year-old teenager living under the care of his mother. Landon signs up for Drama class at High school. Being the student body president, he is forced to attend the Homecoming Prom. Landon ends up picking Jamie as his date.  
Jamie asks for a favour in return, she requests Landon to play the lead role in their school drama. Landon accepts her request only to repay the favour. Landon discovers who Jamie really is, and he feels good around her. Slowly they both fall in love. But something stops Jamie, she tells Landon that he shouldn't be in love with her. Not even in his wildest dreams, Landon had thought of losing her.
She confesses a bitter truth. Since then, his life changed forever. Landon does a beautiful selfless act. Landon gave her something she always wanted.  40 years have passed since then, Landon is 57 years old. Yet he remembers that day as the most wonderful moment of his life. He ends his story saying Miracles can happen. 
To know more about this amazing book – https://gentlepages.com/a-walk-to-remember-book-review/
 Best Buy – https://www.amazon.in/Walk-Remember-Nicholas-Sparks/dp/0751538949
---
Remember Me by Sophie Kinsella – 
Remember me? by Sophie Kinsella is a book that will definitely lift your spirits. The whole story revolves around Lexi smart who has lost the three most important years of her life. She is a stranger in her own life. The protagonist, Lexi Smart is very likeable and funny. Lexi used to dream for a perfect life, but she learns that the perfect life is only an illusion. 
Lexi's husband Eric is a food fascist and is in invested his business all the time. Lexi cannot recall how she fell in love with him. The mysterious guy reveals a secret that would put her marriage at stake. A competing rival is trying to end her career. Lexi Smart traces back and tries to find what exactly had happened with her. 
To know more about this gripping tale – https://gentlepages.com/remember-me-an-amazing-page-turner/
Best Buy – https://www.amazon.in/Remember-Me-Sophie-Kinsella/dp/0552775274
---
Bonus Recommendation 
Mythological Fiction – Palace of Illusions by Chitra Banerjee Divakaruni 
The Palace of Illusions is a retelling of the greatest Indian epic of all time – The Mahabharata. Learning the series of events through the eyes of Draupadi makes this book way more special.  From dreaming to mark a place in the history to be the major reason of the great war, she did make her dream come true.
The author, Chitra Banerjee Divakaruni added the thoughts of a modern woman to Draupadi's character. The shameful humiliation she faced from men made Draupadi open a council for the ladies in the period of her reign. Her untold love for Karna is portrayed well. My heart ached as I read about Karna's life.
To know more about this book –  https://gentlepages.com/the-palace-of-illusions-fascinating-retelling/
Best Buy – https://www.amazon.in/Palace-Illusions-Chitra-Banerjee-Divakaruni/dp/1400096200