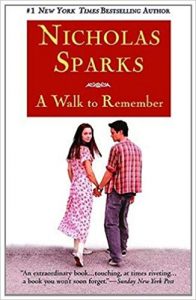 A walk to remember is a beautiful story set in late 1950's. The book begins with Landon Carter detailing his town. 
" First you will smile , and then you will cry – don't say you haven't been warned." 
Back in 1958, Landon Carter was seventeen years old living in Beaufort , North Carolina, a small town filled with sweet people and there were Baptist Churches practically every corner of the town. Landon Carter is a playful teenager living under the care of his mother. His dad is a busy congressman and they visit Hegbert Sullivan's Church, a minister who'd been with the church for a really long time.
Landon teases Hegbert with nasty names and describes him as a very old man. Hegbert had written a play – The Christmas Angel. At high-school, Landon signs up for Drama, not because he intended to but it was either Chemistry or Drama. There were only two boys including him in the drama class.
Jamie Sullivan, Hegbert's daughter, had also signed up for Drama. Jamie is a nice girl, loved by all elders. She never cares about outward appearance but only about the inner beauty. Not that she looked hideous but she looked plain to Landon's eyes. Landon's friends never really accepted Jamie. They felt she was weird to carry a Bible along with her everywhere. Jamie was kind to everyone even if they pass mean comments. 
Every year before Christmas, Beaufort High School puts up the play written by Hegbert. The play resembles Hegbert's life, how as a single parent he has raised his daughter.
Landon is elected as the student body President and is forced to attend the homecoming prom. Landon ends up picking Jamie as his date. Jamie is happy as it is the first time a guy has asked her for a prom. They both end up helping Landon's ex , as she gets super sloshed at the prom.
Jamie asks for a favour in return, she requests Landon to play the lead role, Hegbert's character. Unwillingly he accepts her request only to repay the favour. Oddly , Landon and Jamie get closer as they practice lines together. Landon wishes to remain secret friends with her fearing his friends acceptance.
 "Love is like the wind, you can't see it but you can feel it."
– Nicholas Sparks, A Walk To Remember.
Landon discover who Jamie really is and he feels good around her. Slowly they both fall in love.  But something stops Jamie, she tells Landon that he shouldn't be in love with her. Not even in his wildest dreams Landon had thought of losing her.
"Life, I've learned, is never fair. If people teach anything in school, that should be it."
Nicholas Sparks , A Walk To Remember
She confesses a bitter truth. A huge tragedy falls upon Landon.Since then his life changed forever. Landon and Jamie were opposites but were made for each other but life is cruel and unfair. Inspite of knowing the truth Landon does a beautiful selfless act. Landon gave her something she always wanted. 40 years has passed since then, Landon is 57 years old. Yet he remembers that day as the most wonderful moment of his life. He finally ends his story saying Miracles can happen.
This is my first Nicholas Sparks Book. I absolutely enjoyed reading this bittersweet novel. This story shows the power of Love. Despite the warnings, A Walk To Remember got me crying at the end. A beautiful tale of young ever lasting love. I loved the characterisation, the humour is on point.
The emotions depicted are so powerful. I loved the author's writing style and choice of words. I am so glad I read this book. I took me three full days to move on after reading this book. I couldn't pick another book easily. 
I kept myself from watching the movie before reading the book. The movie is quite different but beautiful in its own way. Obviously the book is better. So I highly recommend you to pick is heart touching book immediately.
TITLE – A Walk To Remember 
AUTHOR – Nicholas Sparks 
GENRE – Romance Novel, Melodrama
PUBLISHER – Warner Books
PUBLICATION DATE – October 1999