The Wedding Tamasha by Sudha Nair.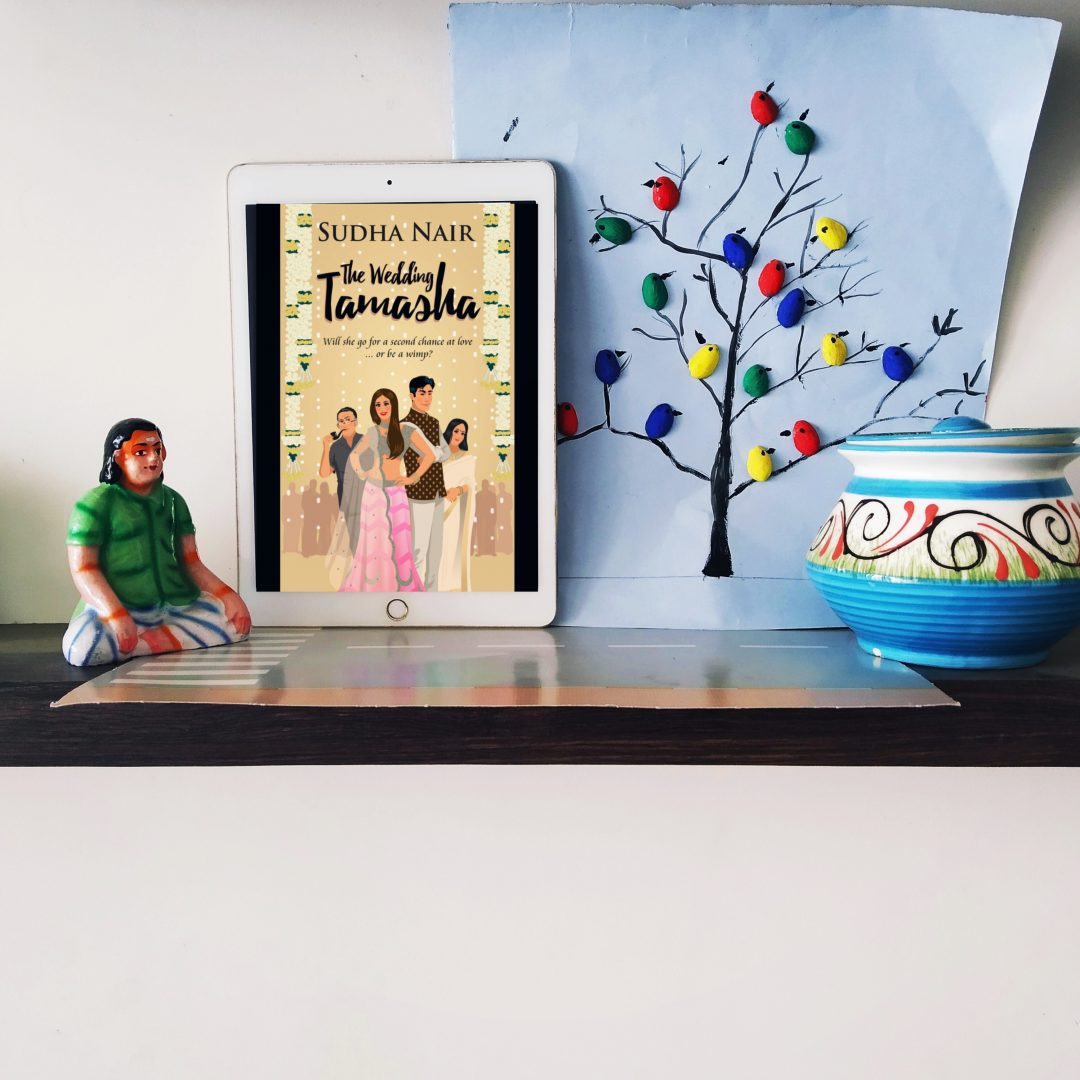 Running away from her nearly psycho husband was the best thing Shweta could do for herself. Shweta's three-month-old marriage had just fallen apart. Julie's Mexican Cafe was her safe place in the states. Considering her father's health, Shweta had pretended to be happily married.
Julie was kind enough to give Shweta a place to stay and a job at her Cafe. Shweta met Max there. He was a great friend and always cheered her up. Everything went as per her plan until the day she received that call from her mother. 
Her brother, Simbu was going to get married. She was happy for him, but that's when the reality hit her. Her secret would soon be out. With her passport stuck in her husband's house, returning to India seemed impossible. 
After much hassle, she returned to India with Max. Max wanted to learn about the Indian culture so he came along with Shweta. Shweta's family was very conservative and her dad was swamped in financial crisis. The truth about her marriage shocked everyone and her father only focused on fixing it back. Shweta was terrified about getting back with her bipolar husband, Raj. The wedding preparations temporarily diverted the family from her issue.
Shweta was not prepared to meet her childhood best friend, Niraj Karthik at the wedding. He took in charge of catering for his best friend's wedding. A blast from the past. Shweta and Niraj shared an awkward past and this meeting would remind them of their memories. It did rekindle the romance from their history, but her marital situation stood as an obstacle. Her father was keen about sending Shweta back to her husband ignoring her feelings. 
Would Shweta choose a toxic marriage for the sake of the society or take another chance at love?
The Wedding Tamasha by Sudha Nair is a book filled with drama and romance. The title itself warns and suggests the great amount of Drama present in the book. The language used is okay and easy to understand. The story is narrated from a third person perspective. The cover is beautiful and catchy. One of the reasons why I picked the wedding tamasha by Sudha Nair.
What I liked about The Wedding Tamasha –
The author, Sudha Nair conveyed a sensitive issue in a light manner. Although Shweta was from a modern Indian family, her father seemed concerned with the honour of the family than his daughter's feelings. The big fat South Indian wedding was described well and there were many Indian food and movie references. The part where Shweta retrieved her passport with her friends was adventurous and fun to read. The readers can find these characters in their day to day life. 
The story didn't revolve only around the protagonist, Shweta but others like Neha and Niraj. The Wedding Tamasha has full potential to be turned into a movie. I love happy endings and The Wedding Tamasha is indeed a heartwarming story.
What I disliked about The Wedding Tamasha –
There were many loopholes and the story seemed a bit illogical. The plot was predictable and The Wedding Tamasha is another cliché romance novel. It felt like reading the script of a Bollywood serial. The second half is pretty slow and over-detailed. 
About the author –
Sudha Nair is the author of the Menon woman series book – The Wedding Tamasha, Priyamvada & co, and About That summer. Sudha Nair is a former techie who now spends her time writing stories and creating worlds where she lets her imagination run riot and has fun along with her characters. The Wedding Tamasha is her debut novel and winner of the Amazon KDP Pen to Publish 2017 contest. She lives in Bangalore, India, with her husband and kids.
I recommend The Wedding Tamasha by Sudha Nair for romance lovers. For a debut novel, the author has done a good job. It is an easy and a quick read.
I would rate this book 3 stars out of 5. ⭐️⭐️⭐️
TITLE – The Wedding Tamasha
AUTHOR – Sudha Nair