Top 3 Gripping Thrillers – GP Recommends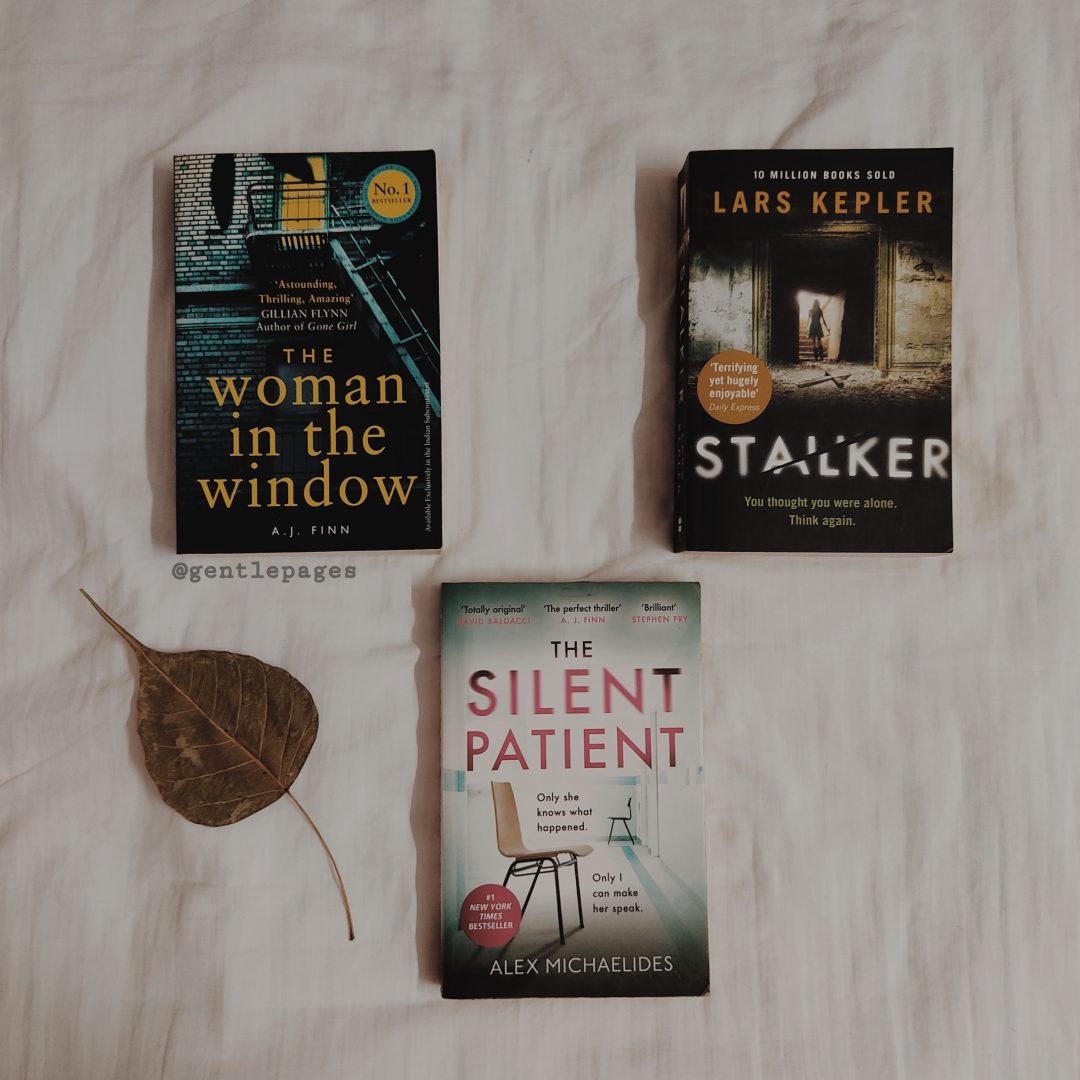 Thrillers are our go-to genre. We loved reading these books. Thrillers help us beat the reading slump and can easily take our minds off a lot of things.   
I love how the plot unravels and suspense is built till the end of the story. These three thrillers are sure to keep you at the edge of your seat.  
The Silent Patient is a cleverly crafted psychological thriller novel. The crime, plot, writing style and character development are on point. The Silent Patient is a compelling page-turner. Highly entertaining plus solid writing. We recommend The Silent Patient by Alex Michaelides to all thriller lovers!  
Read the review – https://gentlepages.com/the-silent-patient-a-terrific-thriller/
"Sometimes I've got too many thoughts at once. It's like there is a four-way intersection in my brain where everyone's trying to go at the same time"  

-A.J.Finn, The Woman in the Window.  
The woman in the window is a good thriller. Usually, in thriller novels, the endings are mostly what I anticipate. This book, however, had so many twists and turns that the ending was unexpected, which made me appreciate the book even more.  
Read the review – https://gentlepages.com/the-woman-in-the-window-book-review/
Stalker by Lars Kepler was a 5-star read. I got goosebumps every time the stalker was about to kill the next victim. The sheer terror, the panic, and just the thought of a killer in your house are enough for a reader to get hooked on this book.  
There were multiple times where I was caught between wanting to turn the page to read on and just close the book and hide. 
Read the review – https://gentlepages.com/stalker-by-lars-kepler-book-review/
I'm sure that those who have read this book had a hard time sleeping for a few days. Just the very thought of being stalked when you're completely unaware is so scary and creepy.
I would say that I have become a bit paranoid of my surroundings after this book. Because you never know. We cannot be aware of our surroundings all the time.
GP recommends these three amazing thrillers! Do pick it up and share your thoughts about them!
Get your copy from
The Silent Patient – https://www.amazon.in/Silent-Patient-Alex-Michaelides/dp/1409181634
The Woman in the window –  https://www.amazon.in/Woman-Window-J-Finn/dp/0008294372
Stalker by Lars Kepler –  https://www.amazon.in/Stalker-Joona-Linna-Lars-Kepler/dp/0007467850