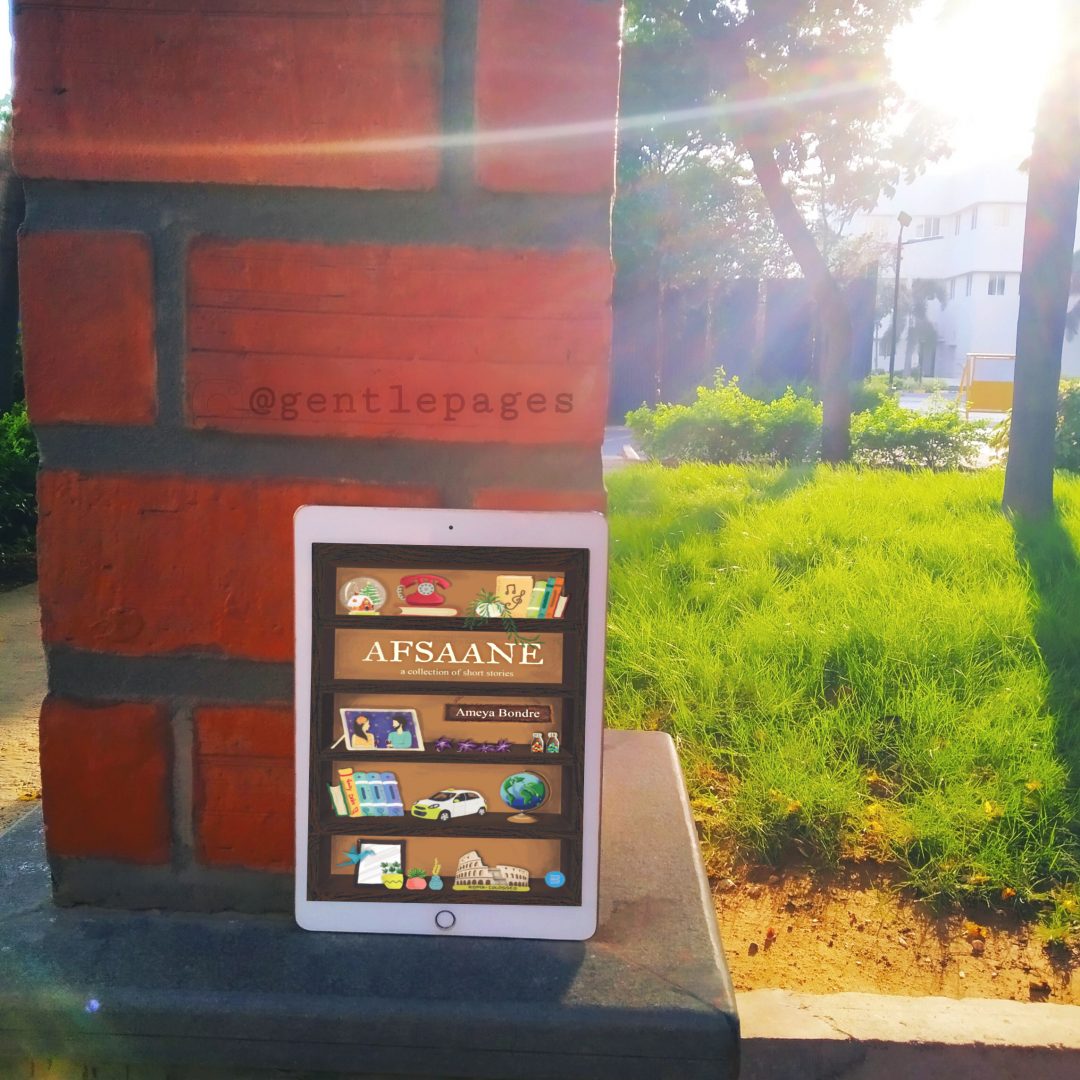 Afsaane by Ameya Bondre is a collection of eleven short stories. It is not easy to cover every aspect of a story in a limited number of pages, but the author Ameya Bondre has penned all the short stories with brilliance. The language used is good and easy to understand.
The plot and storyline of all the stories are unique and interesting. The cover is intriguing and it plays a crucial role in connecting with each story. Each story would take about fifteen to twenty minutes to read.
Distances  

is a unique and refreshing short story. An emotional connection with every souvenir we shelf can sometimes save relationships. This story gives 'Afsaane' a perfect start.
Dreams will make the readers think about their reality. Most of our dreams are not fulfilled as certain responsibilities stand as obstacles. We tend to miss out on opportunities due to some duties that we are bound

 

to do.The readers can learn from this short story that we must always work towards our dream no matter what.
Blinkers on is an important story and my favourite read. The author managed to convey an important and sensitive message in a light manner. A new addition to the family always needs a lot of prepping emotionally. Every complicated doubt and fears would disappear once the little one comes home.
Chaos is a bittersweet story. The title suggests the nature of this story. Bidding goodbye to a person we love the most, for their happiness can also be the beginning of our peace
The Regular date is a twisted and a different story. The whole story made sense towards the end. This story would tug the hearts of the readers.
Trapped is on a very important subject. The narration makes this story a unique read. We learn the narration through a negative shade.

 

A healthy home is a very informative story. The hardships faced by a Dalit woman and her family are conveyed to the readers through this story. A Healthy Home is indeed a thought-provoking read.
Not in the dark was an okay read for me. Too many dialogues created confusion, but overall it was a good story. Not in the dark is about how insecurities could lead a person in the wrong way.
A Frantic Call was a nice story. Ashima knows about her husband's affair. A Broken family could affect her child's mind so she keeps it away from her. Ashima's helpless situation puts her in a dilemma. Can a call from a special person help her make things better?
Deaf  is one of my favourite stories. A trail questions ran through Prachi's head. One confession from him changed her view about everything. Her train journey could teach the readers a valuable lesson.
Long lost is the last short story. This is a story about two childhood friends who meet after eight long years. Time and separation had created a bridge between them. Would this meeting rekindle their past friendship?
The author, Ameya Bondre has written about relationships, the struggles faced by a Dalit woman , Dreams and various other topics. All the stories are refreshing to read. The stories are realistic and one can easily connect with their life.
The title 'Afsaane' means 'tales', 'fiction' or 'romance'. I enjoyed reading 'Distances', 'Dreams', 'A healthy Home', 'A regular Date' and 'Long Lost'.
I would recommend Afsaane by Ameya Bondre to everyone and especially for beginners. 
About the author 
Ameya Bondre is often crunching numbers, drafting research papers, or studying the medical side of innovative health solutions. Writing has been a reliable companion for years, but he formally began writing short stories in the winter of 2017, to finally put them in this anthology. When he is not lost in a riveting thriller movie, or regretting the absence of a dog, Ameya loves reading, banter, or day-dreaming! He is a public health graduate from Johns Hopkins University, with prior medical training at KEM Hospital in Mumbai, the city of his childhood, where he stays with his family.
TITLE – Afsaane – A collection of short stories
AUTHOR – Ameya Bondre
PUBLISHER – Blue Rose Publishers