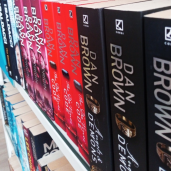 ---
Through my bookish memory lane.
by Sonaali Jayakumar
---
If I could get stranded somewhere, I hope it's in my school library.
I used to be that kid who longed for extra library hours in school.
I used to be that kid who secretly rejoiced when free hours were substituted by library hours instead of games.
I used to be that kid who picked an Enid Blyton book while staring at few boys brawling over the Guinness World Record.
My school library is undoubtedly my favorite spot in School. That place gave me a heartwarming experience. From comic lovers and avid readers to those who rushed to sit below the air conditioner, the School library is indeed a place to see different kinds of people.
Our library is so old that we even heard funny rumors that it was haunted.
My school librarian made our experience a million times better. She is hands down the most fun and sweetest faculty. She encouraged us to read more. She also gave us the chance to exhibit our talent, she pinned our sketches, short stories, essays, and even some riddles on the bulletin board outside the library. 
The first book I read as a kid was Junie B Jones by Barabara Park. I used to love reading the Geronimo Stilton, Italian children's book series. The school library played a huge part in developing my reading habit. 
We could borrow books every alternative week from the library. She would ask us a few questions from it, and we would win good chits if we got it right. She didn't just run the library, she was always there to hear our thoughts and she's supported us in every way possible. 
Ray Bradbury rightly quoted, "There's no use going to school unless your final destination is the library."
Walking past the bookshelves, I knew this place would be my Paradise. Books help us to escape from the boring reality, and there can be no better companion than a book.
---
My Journey as a Book Reader – How it all began.
by Shreshtraaaa
---
Since it is world book day, I would like to share where my journey as a book reader began. I was eight. There was a scholastic program happening in school and they gave us a form to take home. I remember telling my parents about it and eventually they agreed to buy a book from the program. It was "The meanwhile adventures" by Roddy Doyle. I went to school the next day with the form filled and money in hand.
A week's wait was worth it when I finally got the brown-paper package. I couldn't wait to go back home and rip it open. I still remember how I read the book on the same day and I somehow felt wanting more.
My reading option then expanded to tinkle digest comic books. This happened for quite a while. I then bought books from the scholastic program a few more times.
Later, when I was ten, one of my cousins took me to a bookstore and bought an entire "THE FAMOUS FIVE" book collection. All 24 of them. That is when I became a passionate reader. I loved the adventure genre at that age.
I then started going to the school library frequently and found more books to satisfy my love for the adventure genre. I would pick a book and then sit at the last desk to have a quiet read.
 And then slowly, I branched out and started reading books of different genres.
It has been 12 years since my first book read and I have only grown fonder of them, explored different genres, and discovered new authors. I still get all giddy and excited when I go to a bookstore.
I think I have come a long way since then. From being a small book admirer to now having started a book blog with my cousin (who is also a book-lover) to now writing about world book day.
A book started this passion of mine. A book – mere collection of words and sentences strung together – started this website.
Happy World Book Day 🙂
Share with us your fondest memory of books in the comments section below.